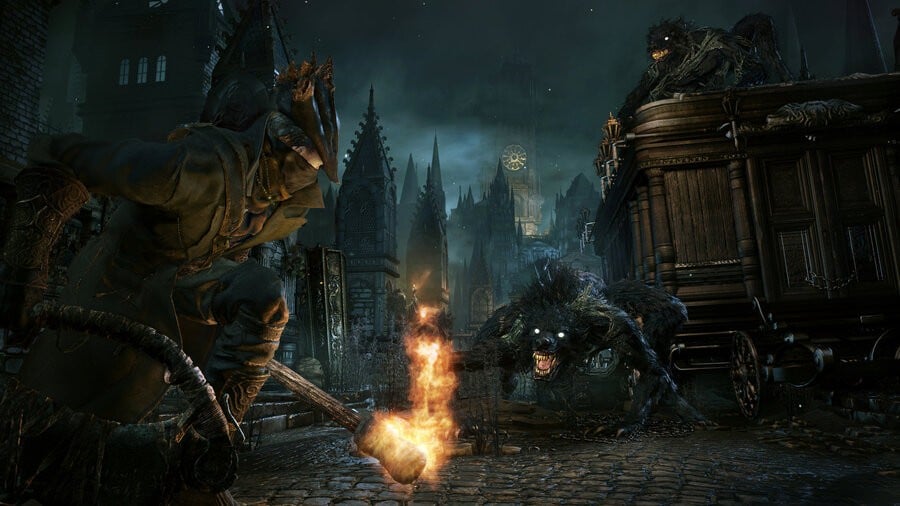 Which starting weapon is the best to begin with in Bloodborne? Well, selecting your origins class is a key decision that could dictate the way that you play the game, so make sure that you read our classes guide through here if you haven't already. Picking the right starting weapon is slightly less important, purely because you'll be changing your arsenal regularly – but the opening moments of From Software's latest are tough, so you'll want to make sure that you begin with your strongest foot forward.
The game's tutorial will require you to select both primary and secondary weapons, and we've included the options and some key statistics below.
Bloodborne Guides
Bloodborne's Starting Weapons
There are three primary weapons for you to choose in Bloodborne from the offset. We've included a little information and some relevant statistics below:
Saw Cleaver
The best all-rounder option from the off, the Saw Cleaver has average attack and speed properties, but will inflict enough pain on your foes to get you started. It features an extended form which is good for dealing with groups of enemies, however if you've boosted your Strength or Skill statistics, you're not going to get much of a bonus here.
Physical ATK: 90
Durability: 200
Attribute Bonus:

Strength: D
Skill: E
Arcane: D
Hunter Axe
The Hunter Axe is the most powerful starter option, but it's also very slow. Obviously it does more damage than the Saw Cleaver, but it's worth noting that its secondary form is two-handed, so you can't use a firearm in conjunction with it. Due to this, and its comparably poor Attribute Bonuses, we'd recommend the Saw Cleaver over this, unless you prefer more methodical armaments.
Physical ATK: 98
Durability: 200
Attribute Bonus:

Strength: D
Skill: E
Arcane: D
Threaded Cane
The ideal choice for those of you playing Skill-based classes, the Threaded Cane is the flashiest of the starting weapons – and also the only option with a 'C' rank Attribute Bonus. It doesn't do a great amount of damage, but it has pretty good range in its extended form, and is a good complement for the Professional origin.
Physical ATK: 78
Durability: 200
Attribute Bonus:

Strength: E
Skill: C
Arcane: D
Bloodborne's Starting Secondary Weapons
Meanwhile, there are only two secondary weapons for you to select at the start of Bloodborne. We've included a little information on each and some relevant statistics below:
Hunter Pistol
The Hunter Pistol is a decent long-range firearm that's good for attracting the attention of enemies and drawing them to your position, but its durability isn't great. It's also not good at landing all-important stun shots, which is likely what you'll be using guns for – especially if you're a beginner.
Blood ATK: 70
Durability: 100
Attribute Bonus:
Hunter Blunderbuss
Despite not being great at long-range, the Hunter Blunderbuss is incredibly powerful in close-quarters, and it has an impressive spread, making it pretty easy to land hits. What's more, this will often stun your enemies, making it a good complement to melee attacks.
Blood ATK: 20
Durability: 150
Attribute Bonus:
---
What's your current loadout in Bloodborne? Which weapons did you start out with? Gear up in the comments section below.