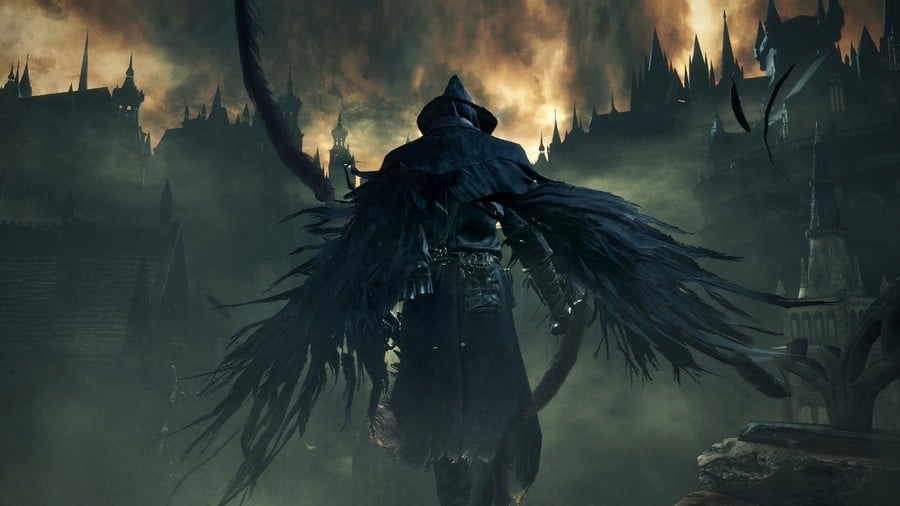 Which origins class should you pick in Bloodborne? Well, there are difficult decisions for you to make right out of the gate, like whether you'd like to be a male or female, or how old you are. While these are important in terms of shaping the look of your character, though, they won't have any bearing on your abilities. It's the origin attribute that you'll want to pay most attention to, then, as the upbringing of your avatar will shape the way that your hero's going to play – especially in the early exchanges, when you won't be able to level up.
You will be able to customise and change direction over the course of your adventure, so don't worry if you decide to adapt your approach later on. It is worth stressing, however, that in order to create the optimal build for your preferences, you're going to want to ensure that your starting statistics are tuned to your tastes. So, what are the attributes that you should be aware of, and what do they do?
Bloodborne Guides
Bloodborne Character Statistics
These are the various statistics that you'll encounter in Bloodborne, and what they each mean:
Level: Straightforward enough, this represents your character's current level. All of the origins, barring 'Waste of Skin', start at Level 10, which means that 60 or so stat points will already have been assigned. You'll be able to add more of these as you progress through the game.
Blood Echoes: Think of these as currency, or blood money if you want a more apt analogy. You'll collect Blood Echoes in battle, but they will be all lost if you die. As in Demon's Souls and Dark Souls, these can be recovered, but you'll need to ensure that you don't fall while trying to retrieve them.
Vitality: Essentially your health, the greater your Vitality statistic, the more damage you'll be able to take without dying.
Endurance: You won't be able to button mash in Bloodborne, as you'll quickly run out of stamina. The amount of energy that you have is governed by your Endurance statistic, with a greater number obviously allowing you to attack and evade more without tiring.
Strength: You'll want to pump up the Strength attribute if you like heavy weapons, such as two-handed hammers. Increasing this statistic will not only allow you to carry bigger armaments, but it'll also boost your capabilities when it comes to weapons with Strength bonus attributes.
Skill: Similarly to the Strength stat, the Skill attribute is geared more towards skill-based weapons, which tend to be lighter and faster than their tougher counterparts. Again, you'll get Skill bonuses with this trait if you're carrying a corresponding weapon.
Bloodtinge: Believe it or not, Bloodtinge is to do with firearms, and increases your efficiency with guns. You'll need ammunition for the weapons that you use here, so this perhaps isn't worth focusing on – it's better served as an accompaniment.
Arcane: Finally, the Arcane stat works similarly to the Strength and Skill attributes, providing you with bonuses on magic-imbued weapons.
With all of that read, revised, and imprinted on your mind, it's now time to turn your attention to the aforementioned origins. There are nine of these that you can select from at the start of the game, each of which comes with a different spread of stats. As discussed earlier, you can change course should you decide to focus in another area over the length of your adventure, but to create an optimised build, you're going to want to focus on an origin that specialises in your areas of interest.
Bloodborne Origins Classes
These are the nine origin classes that you'll encounter in the game, alongside their associated statistics:
Milquetoast
Milquetoast is a good all-rounder, with evenly distributed stats. There's nothing especially outstanding about this class, but you can use that to your advantage, as it will enable you to more easily tinker to your tastes once you figure out what you enjoy.
Level: 10
Blood Echoes: 300
Vitality: 11
Endurance:10
Strength: 12
Skill: 10
Bloodtinge: 9
Arcane: 8
Lone Survivor
Also the name of an excellent indie game, Lone Survivor is probably the best class for beginners. This class has the most Vitality, so you're going to be able to withstand quite a lot of damage early on. If you're new to the Souls games, that will come in handy during the tricky opening exchanges.
Level: 10
Blood Echoes: 420
Vitality: 14
Endurance: 11
Strength: 11
Skill: 10
Bloodtinge: 7
Arcane: 7
Troubled Childhood
Excellent Endurance statistics make the Troubled Childhood great at quick combos and evasion, but the low Vitality attribute will make it a tricky choice for newcomers.
Level: 10
Blood Echoes: 360
Vitality: 9
Endurance: 14
Strength: 9
Skill: 13
Bloodtinge: 6
Arcane: 9
Violent Past
If you like heavy and powerful weapons, then the Violent Past class is a great choice. With a really high Strength attribute and decent Vitality and Endurance stats, this is tailored towards melee players. Just be aware of the low Bloodtinge, making it a weak selection for firearms.
Level: 10
Blood Echoes: 180
Vitality: 12
Endurance: 11
Strength: 15
Skill: 9
Bloodtinge: 6
Arcane: 7
Professional
As the name perhaps suggests, Professional is a class best reserved for Souls aficionados. With decent Endurance and Skill attributes, it can be a devastating combo – but low Vitality could undo newcomers.
Level: 10
Blood Echoes: 240
Vitality: 9
Endurance: 12
Strength: 9
Skill: 15
Bloodtinge: 7
Arcane: 8
Military Veteran
Similar somewhat to the Violent Past class, Military Veteran is a great choice for melee focused players. It has decent Strength and Skill stats, enabling you to use a wider range of weapons, and benefit from greater bonuses later on.
Level: 10
Blood Echoes: 320
Vitality: 10
Endurance: 10
Strength: 14
Skill: 13
Bloodtinge: 7
Arcane: 6
Noble Scion
The obligatory firearm focused class, this is not recommended, as guns use ammo, making it a tricky area to specialise in. Hardcore players will enjoy the challenge that this brings, but newcomers are advised to steer clear for now.
Level: 10
Blood Echoes: 540
Vitality: 7
Endurance: 8
Strength: 9
Skill: 13
Bloodtinge: 14
Arcane: 9
Cruel Fate
Cruel Fate may not be so cruel if you like magic-imbued weapons, but seeing as you won't be unlocking many of these until later in the game, it's a tough starting point. Vitality and Endurance are reasonable, but low Strength and Skill stats make this a tricky choice.
Level: 10
Blood Echoes: 500
Vitality: 10
Endurance: 12
Strength: 10
Skill: 9
Bloodtinge: 5
Arcane: 14
Waste of Skin
This is for the masochists known as min-maxers. Selecting Waste of Skin will start you at a lower level than the other classes, but you'll have more freedom to distribute your stats exactly where you want them once you level up. Of course, you're going to have to get through the opening exchanges as a very weak character, so definitely don't pick this if you're a beginner.
Level: 4
Blood Echoes: 310
Vitality: 10
Endurance: 9
Strength: 10
Skill: 9
Bloodtinge: 7
Arcane: 9
Which origins class should you pick in Bloodborne?
It really depends. There's a lot of flexibility in the options outlined above, and Souls veterans will likely have a good idea of the way that they want to play. If you're one of these people, then focus on the class that will support your preferred statistics. If you're a beginner, however, we'd recommend Milquetoast or Lone Survivor. The former is a good all-rounder, but trades out Vitality for a greater spread of combat abilities. As such, we'd probably pick Lone Survivor if you're just getting started, as the health boost will help you, while you won't necessarily feel the disadvantages in Arcane and Bloodtinge early on.
---
Which origin class did you select in Bloodborne? Do you have any extra tips to share on this subject? Pick your past in the comments section below.