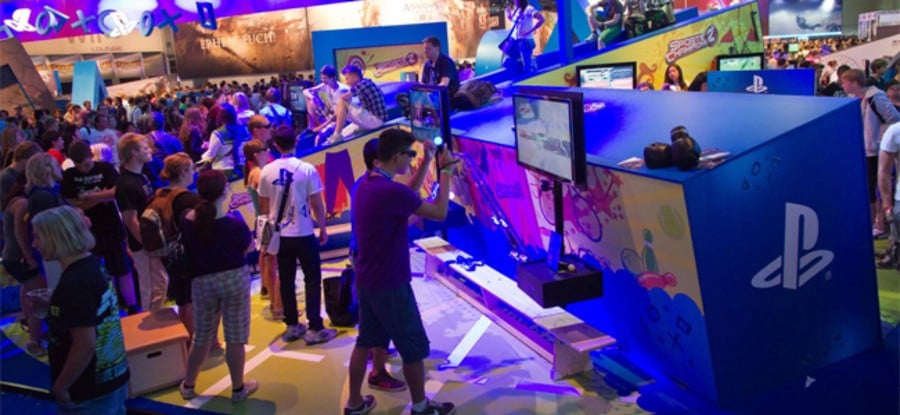 Despite being the biggest gaming convention on the planet, Gamescom has always been treated as E3's younger, less important sibling. Historically, the big announcements are reserved for Los Angeles, with the German show serving as a gaming aperitif of sorts, offering new trailers and information, but nothing that's ever going to blow your mind. While we predict that this trend will continue, Sony's always been good at spreading its reveals throughout the year, so we're expecting another reasonably eventful press conference from the company on 12th August. What will make up its 60 or so minute show, though? Here are ten things that we reckon you should anticipate.
Obligatory PS4 sales performance update
For the sake of our sanity, Sony has mercifully ceased releasing updates on the PlayStation 4's commercial performance with every million sold. However, we're fully expecting it to confirm that the console has reached 10 million units at some point during its Gamescom 2014 media briefing. The last we heard, the console had moved 7 million units as of 6th April, and while it's definitely slowed over the past four months or so, we reckon that the releases of Watch Dogs and The Last of Us Remastered will have given it enough momentum to cross the all-important milestone. Don't be surprised if it also dates the standalone Glacier White hardware model which was teased for Europe earlier in the year, as that will certainly represent part of its plan to sell the next 10 million units.
The great Grand Theft Auto V
Whether you're bored of re-releases or not, it's hard to ignore the importance of Grand Theft Auto V. Sony befriended Rockstar Games for the PlayStation 3 version's release last year, and it seems to be in bed with the developer again for the recently announced next-gen remaster. Around the same time as E3 2014, PlayStation marketing chief John Koller teased that the game would feature some exclusive content on the Japanese giant's machine, so it stands to reason that the organisation has landed the co-marketing deal on the port. We reckon that the firm will date the title during its press conference, while also confirming some kind of hardware bundle that will go on sale at launch in Europe and North America. Sure, that's not especially big news for existing owners of the console, but we all know that a reasonably priced package will sell like gangbusters this Christmas.
Dawn breaks on Until Dawn
It's been two years since Sony announced Until Dawn as its flagship PlayStation Move [Remember that? – Ed] title at Gamescom. Since then, the game has pretty much remained under the radar, but we can be almost certain that it will re-appear next week. In addition to a leaked list of playable show floor software, the platform holder has been deploying teaser trailers leading into the event that show a frosty landscape. These are reminiscent of the Supermassive Games developed survival horror's original videos, all but confirming its presence. There are a few theories surrounding the game and its potential compatibility with Project Morpheus, but we're starting to think that the release will launch this year on the PS4 ahead of Hallowe'en. This is little more than a gut instinct, but it would certainly reinforce the manufacturer's desire to detail titles right around their deploy date.
Port royale
At the very start of this year, your humble host smugly declared that 2014 would be the 'Year of the Re-Release', and this editor was right. We've already seen Tomb Raider: Definitive Edition and The Last of Us Remastered on the PS4, with Metro Redux, Sleeping Dogs: Definitive Edition, and Grand Theft Auto V still to come. And no matter how fed up you are of these ports, there will be more. Sony has publicly admitted in recent interviews that having now captured PlayStation newcomers with its next-gen machine, it wants to embed them in the ecosystem by showing them what they've missed. As such, it wasn't a huge surprise to see The Unfinished Swan and Journey listed as part of the same software lineup that also outed Until Dawn – but don't be surprised if Beyond: Two Souls and some kind of God of War Collection featuring God of War III and God of War: Ascension also make the jump.
MineCraft could be Vita's saving grace
We all know that the PlayStation Vita is selling pretty poorly everywhere except Japan, but amid the complaints about a lack of system sellers, many armchair analysts have missed one major release: MineCraft. Mojang's indie smash may be more or less ubiquitous these days, but Sony's handheld version has a particularly strong shot at moving systems this Christmas. This is the full version of the game, which instantly makes it better than the mobile release, and it's coming to a device that's perfectly suited to its first-person controls. The platform holder's not stupid, and will recognise this release as the portable's one big shot this holiday. As such, we're expecting a custom hardware bundle including a copy of the game, a memory card, and, if it wants to get really aggressive, a download code for Tearaway, too. At an affordable price, that could be a huge hit.
PlayStation still loves indies
Indie games may be the second biggest point of frustration for short sighted PlayStation fans right now, but after all of the good work that Sony's done in the sector, we can't see it ceding its gigantic advantage in the space. As such, expect spokesperson Shahid Ahmad to take to the stage as he did last year and rattle off a long list of new titles coming to the Japanese giant's suite of systems. With the gorgeous No Man's Sky already associated with the manufacturer's brand, it's getting harder to predict what these titles could entail, but as far as we're concerned, that's part of the fun. We also anticipate that the platform holder will provide updates on some of its smaller European titles, such as Everybody's Gone to the Rapture, Shadow of the Beast, and, of course, the absolutely stunning RIME.
A firmer firmware roadmap
The PS4 is an outstanding system, but it's definitely in need of some key features a year after release. Sony appears to have switched to a strategy in which it deploys bigger patches less frequently, but given Microsoft's much more proactive attitude in this space, we're expecting it to be a little more open about its plans at Gamescom. Specifically, we reckon that it'll probably detail the console's next major update at some point during its presentation, rattling off requested features such as DLNA support, MP3 playback, content grouping, and custom backgrounds. We're also anticipating a date for all of the YouTube functionality that was revealed at E3, as well as confirmation of new European-based media applications, such as the ITV Player and more.
There are more exclusives than you think
We're not convinced that the criticism's especially fair, but the PS4 has been lambasted for lacking games since release. This complaint actually defies reality, as the system has played host to an extraordinary number of titles over the past ten months or so – many of which are worth playing – but it perhaps speaks to the number of exclusives currently announced for the next-gen console. However, with Ratchet & Clank, DriveClub, inFAMOUS: First Light, The Order: 1886, Bloodborne, and LittleBigPlanet 3 all due out over the next six months or so, it's hard to say that the outlook's looking especially bleak. And we expect all of these games to feature during the manufacturer's presentation in one way or another, regardless of whether it's in the guise of new trailers, stage demos, or promotions. Expect all of these titles to be playable on the showfloor, too.
What's next for Media Molecule or Guerrilla Games?
Sony doesn't announce first-party games years prior to their release anymore, and that's just something that you're going to have to get used to. It adopted the CGI trailers strategy with the PS3, and that bit the company in the bottom, so it's now making announcements much closer to release. That said, we do think that you'll see one major project unveiled at Gamescom, and it will probably be from either Media Molecule or Guerrilla Games. The former in particular has been much more vocal of late, even posting a YouTube video of a glitch from its unannounced game a few weeks ago. Exactly what it's working on is unclear, but expect it to be something wildly imaginitive, rather than your typical cover-based shooter. As for the platform holder's Amsterdam-based outfit, there's strong speculation that it's working on some kind of role-playing game. With its attention divided between the new game and Killzone: Shadow Fall, we don't reckon that this will be ready just yet – but we daresay that it could cobble together some kind of teaser if asked to.
A Thief's End to end
Uncharted 4: A Thief's End already concluded Sony's E3 2014 press conference, but this is the platform holder's biggest game right now. Speaking during a Comic-Con panel earlier in the year, creative director Neil Druckmann hinted that we'll be seeing more of the title soon, so we're counting on some kind extended trailer appearing during the firm's Gamescom media briefing. We doubt that you'll get to see gameplay of this until next year, but another 60 second cinematic short should keep everyone interested until then, huh? We'd be especially happy if it teased some of the other characters set to cameo in the title, such as Elena, Chloe, and, fingers crossed, the somewhat stereotypical Cutter.
---
These are our predictions for next week's big press conference, but what are you expecting to see? Are there any announcements that you're desperate for? Which of the above would ratchet it up your hype meter to unbearable degrees? Share your thoughts in the comments section below, and then check back next week for all the action as it unfolds.