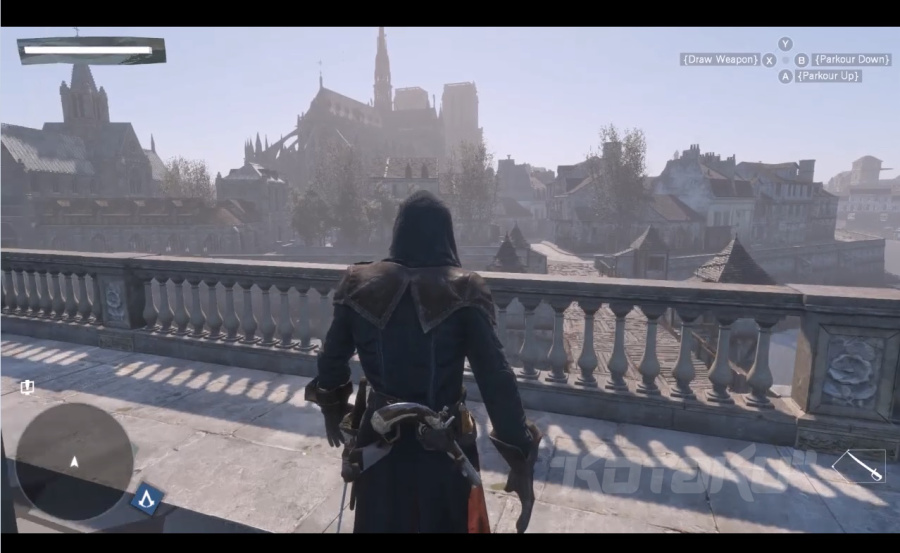 Ubisoft's globetrotting historical franchise Assassin's Creed is set to come inland for its next instalment, as Kotaku has got its gloved mitts on some leaked screenshots from the series' supposed next entry. Currently codenamed Unity, the images – which you can point your powdered eyes at throughout this article – prove that the product is at least partly set in 18th-century Paris, with landmarks such as the Seine River and Notre Dame on display.
Due out later this year, this is apparently one of two titles set to wear the franchise's famous moniker this Christmas. According to the abovementioned publication's super secret sources, the pictured release will deploy on the PlayStation 4, while a second game currently dubbed Comet will arrive on the PlayStation 3. This move is supposedly designed to free the next-gen title from the limitations of ageing hardware, but is unlikely to quell complaints about the property being overexposed.
According to an Examiner editor – who leaked Assassin's Creed IV: Black Flag last year – Unity will be set during the French revolution, and will feature a new hero named Arno. It will also supposedly put a focus on four-player co-op, which perhaps tallies with insinuations made by Ubisoft employee Jean-Sebastien Decant last year. "I think that we're going toward a gaming place where the open world will be shared with other players," he said, adding that the franchise's next title will represent a real step forward.
The images show a game that's clearly still in early development, but one interesting thing to note is the addition of 'Parkour Up' and 'Parkour Down' button prompts. Apparently, these are part of a new series navigation mechanic, which will make its debut with this game. Are you intrigued by the setting, or are you getting tired of Ubisoft's annualised adventures? Pray that there are no eavesdropping objectives in the comments section below.
[via kotaku.com]