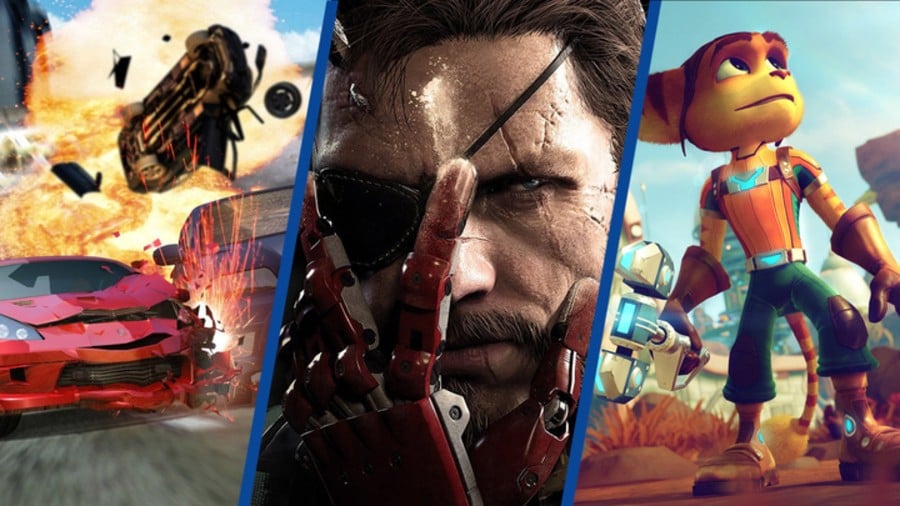 It's here. It is finally here. This Thursday, Sony will unveil just a selection of the next-gen titles coming to PlayStation 5 at launch and beyond. And, naturally, we couldn't be more excited. To tap into the hype that we're sure you're revelling in too, we've decided to share a couple of our predictions, hopes, and dreams with the world in an effort to will them into existence. We don't think that needs doing for every prophecy we make, but boy do we have some unrealistic predictions coming your way.
To give this feature some structure, each member of the Push Square editorial team has come up with one prediction that they genuinely believe could happen, and another which would probably have them laughed out of our Slack channel on any other given day. These are our predictions, hopes, and dreams for Sony's PS5 reveal event.
Sammy Barker, Editor
My understanding is that Insomniac Games has had a new Ratchet & Clank in development for quite some time, and while it's safe to assume it probably started life as a PS4 project, the fact that it was never officially unveiled suggests that development was switched to Sony's next-gen system at some point. I loved the recent remake, but with a development cycle as long as this project has seemingly had, I'm looking for the true successor to the outstanding A Crack in Time. I'm hoping for an explorable solar system, with space flight facilitating dozens of different planets, each packed with side-quests and collectibles.
And as for a dream announcement? Well, it's weird because I'm 100 per cent down for an open world arcade sports game from Clap-Hanz or an 80s-themed Uncharted from Sony San Diego's team – both of which, bizarrely, could happen. So, I'm going to go even crazier and pitch a Syphon Filter reboot from Bend Studio. Look, I really like the Days Gone franchise, but without Splinter Cell and Metal Gear Solid on the release schedule, the industry is failing to scratch my espionage itch. I want huge levels similar to Hitman, with tons of different gadgets giving you myriad reasons to replay. In my imagination, there'd be dozens of ways to complete your objectives, and you'd have the option to play in full stealth – or as an action hero.
Robert Ramsey, Deputy Editor
Surely it's time for us to get a good look at Godfall? The self-titled 'looter-slasher' was one of the first confirmed PS5 launch games, and before the world went to sh*t, developer Counterplay Games said that we'd soon be seeing much more of it. I'm going to assume that Godfall will be a part of Sony's presentation, and I sincerely hope that it stands out. There's potential in the pitch -- Destiny meets Monster Hunter meets Dark Souls -- and now we just need it to deliver. I don't think this showing will be make or break for Godfall, but I do think that it has to come out swinging -- especially if this showcase is going to be as stacked as the myriad rumours would suggest.
Meanwhile, my dream announcement's easy: Dragon's Dogma 2. While I understand that it's not completely outside the realms of possibility -- I even think Dragon's Dogma 2 will happen at some point -- I can't imagine it being a part of Sony's first PS5 showcase. But still, I'd love to see it. The original Dragon's Dogma remains one of my favourite ever action RPGs, and using it as a foundation, I think Capcom could create something truly special. A larger, denser, and more dynamic open world. Expanded character classes, and a more versatile pawn system. Hell, throw some optional co-op in there for good measure. I've got high expectations for this event, but a next-gen Dragon's Dogma would shatter those expectations into tiny little pieces.
Stephen Tailby, Associate Editor
When you read up on what games could appear at Sony's PS5 event, a selection of high profile titles have established themselves as likely candidates. However, one pretty obvious prediction I rarely see talked about is the next game from Housemarque. This small Finnish studio has been on good terms with PlayStation for many years now. It was present early in PS3's life with Super Stardust HD. It created one of PS4's best launch games with Resogun. Shuhei Yoshida paid a visit to Housemarque last year, the developer has halted work on other projects, and has been beavering away at a triple-A project -- there's plenty of reason to believe we'll see something from Housemarque on Thursday.
When I think about a dream announcement, my mind goes straight to Burnout. As a big fan of arcade racers, I've been pining for some drifty, smashy mayhem for most of the PS4 generation. Most driving games have veered into sim territory, but I think it's high time Criterion's series -- and arcade racing in general -- made a comeback. The studio has its hands full with the next Need for Speed right now, so there's hope this could recapture some of that magic, but I'd absolutely love to see Burnout return to its Takedown golden era with a ludicrously fast new entry on PS5. There are other arcade racers I want to see return, but Burnout is top of my list.
Liam Croft, Senior Staff Writer
It's kind of crazy to think that a Silent Hill reboot is a somewhat realistic prediction to make at the time of writing. After months of rumours, I think it's time for this speculation to either put up or shut up with an announcement at Sony's PS5 reveal event. Silent Hill will be confirmed for the Japanese giant's next console with a two-minute trailer, devoid of proper gameplay, that serves as a complete reimagining of the survival horror franchise. Pyramid Head will put in an appearance alongside a new protagonist, concluding with a 2021 release window.
However, if Konami wants to better its own IP, it can announce Metal Gear Solid 6. I think it's quite clear that I'm a huge fan of the franchise, and so the cherry on top would be for the Japanese publisher to somehow get Hideo Kojima back on board as director. Let's forget about the fifth instalment's story and make a proper Metal Gear Solid title which combines phenomenal stealth gameplay with a bonkers, sublime narrative. It's never going to happen, but that's what dreams are all about, right?
---
What PS5 game announcement would blow your mind? What is a more realistic next-game you think will be confirmed at this Thursday's next-gen event? Share your thoughts in the comments below.