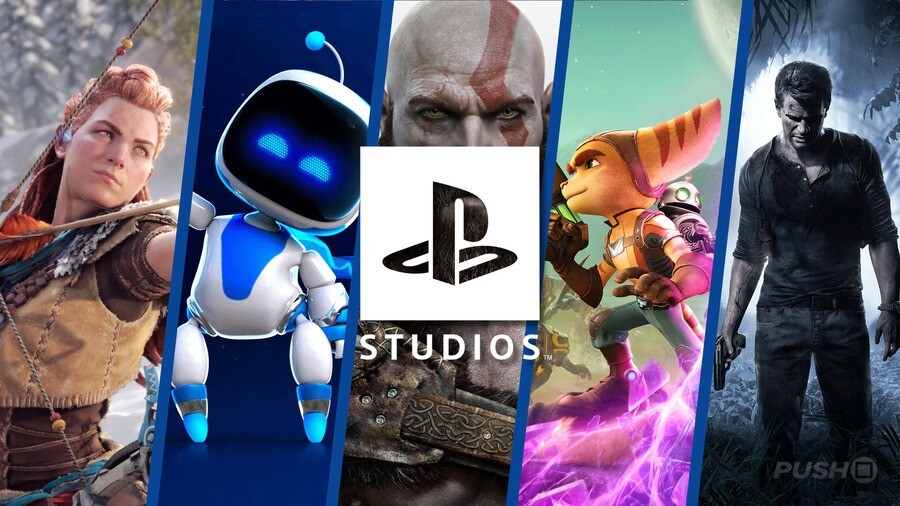 What are all PlayStation Studios developers and what are they working on? In this PlayStation Studios guide, we're going to list all of the Japanese giant's subsidiary game makers, along with their current projects. We'll be updating this article regularly, as new titles are announced.
Japan
Here are all of Sony's teams working out of the company's home country.
ForwardWorks
Mobile studio established to expand PlayStation's footprint in the rapidly growing smartphone sector. Focused solely on the Japanese market for now.
Established: 2016
Location: Tokyo, Japan
Current Projects: No Heroes Allowed! Dash, Wild Arms: Million Memories, Arc the Lad R
Polyphony Digital
Originally an internal development unit named Polys Entertainment, Polyphony Digital is best known for creating Sony's flagship racing franchise, Gran Turismo.
Established: 1998
Location: Tokyo, Japan
Current Projects: Gran Turismo 7
Team Asobi
Team Asobi rose from the ashes of Japan Studio, initially an internal group building tech demos and on-boarding software such as The Playroom. It brought us Astro Bot Rescue Mission for PSVR, and is now best known for PS5 pack-in game Astro's Playroom.
Established: 2021
Location: Tokyo, Japan
Current Projects: Unknown

Europe
Below you'll find details on all of SIE's European studios.
Firesprite
Firesprite has an interesting history; it was initially formed by developers from Studio Liverpool, an old Sony studio shuttered in 2012. Most famous for The Persistence and supporting Sony on The Playroom and The Playroom VR, this is now SIE's largest UK-based studio.
Established: 2013
Location: Liverpool, England
Current Projects: Unknown
Guerrilla Games
Creators of the Killzone franchise and acquired by Sony following the release of Shellshock: 'Nam 67 in 2005. Built the Decima Engine and in the process of moving to a larger office as it expands its team to 400 full-time employees.
Established: 2000
Location: Amsterdam, Netherlands
Current Projects: Horizon Forbidden West, Online multiplayer shooter (Rumoured)
Housemarque
Finnish developer Housemarque has worked closely with Sony for over a decade. The studio specialises in arcade-like action, bringing us titles such as Super Stardust HD, Resogun, and of course its latest work, Returnal. The success of the latter pushed Sony to acquire the team in 2021.
Established: 1995
Location: Helsinki, Finland
Current Projects: Returnal
SIE London Studio
SIE London Studio's gone through multiple iterations over the years, but is perhaps best known for its work on Sony's most family-friendly brands like SingStar. Currently focused on PSVR.
Established: 1993
Location: London, England
Current Projects: Unknown
Media Molecule
The makers of the LittleBigPlanet franchise, and one of Sony's most imaginative studios. Media Molecule was acquired by Sony in 2010 following the success of Sackboy's inaugural adventure.
Established: 2006
Location: Guildford, England
Current Projects: Dreams (Ongoing)
SIE XDev Europe
Located in the same office as the now defunct SIE Liverpool Studio, SIE XDev Europe works with external developers on PlayStation-published projects. Some examples include Returnal (Housemarque), Until Dawn (Supermassive Games), and Detroit: Become Human (Quantic Dream).
Established: 2000
Location: Liverpool, England
Current Projects: Unknown
North America
Most of Sony's best-known studios hail from the United States. Here they all are.
SIE Bend Studio
Infamously created Bubsy 3D for the PSone before moving on to the Syphon Filter series under the Eidetic name. Acquired by Sony in 2000. Historically focused on portable games, but back working on consoles with Days Gone.
Established: 1993
Location: Bend, Oregon, USA
Current Projects: New open world game
Insomniac Games
Famed for PlayStation exclusive series such as Spyro the Dragon, Ratchet & Clank, and Resistance, the developer has felt like part of the first party family all along. With Marvel's Spider-Man being such a huge hit, it's no wonder Sony scooped the studio up in 2019.
Established: 1994
Location: Burbank, California, USA
Current Projects: Marvel's Spider-Man 2, Marvel's Wolverine
Naughty Dog
Perhaps the most famous of Sony's studios, Naughty Dog has a long history creating series such as Crash Bandicoot, Jak & Daxter, and Uncharted. Acquired in 2001.
Established: 1984
Location: Santa Monica, California, USA
Current Projects: The Last of Us: Factions (Multiplayer), The Last of Us Remake (Unannounced)
PixelOpus
A fairly new first-party studio formed of university graduates, Pixelopus focuses on creative projects that diversify PlayStation's software portfolio. Its first game was Entwined.
Established: 2014
Location: San Mateo, California, USA
Current Projects: Unknown
SIE San Diego Studio
Most famous for the critically acclaimed MLB The Show series, SIE San Diego Studio has previously operated as a support studio for external developers, and has also worked on titles like The Mark of Kri and Pain.
Established: 2001
Location: San Diego, California, USA
Current Projects: MLB The Show 21, New Uncharted game (Rumoured)
SIE Santa Monica Studio
Creators of the God of War franchise. Previously incubated developers like thatgamecompany, while also serving as a support studio for external developers working on exclusive games.
Established: 1999
Location: Los Angeles, California, USA
Current Projects: God of War Ragnarok
Sucker Punch Productions
One-time Nintendo 64 developer, Sucker Punch is best known for the Sly Cooper and inFAMOUS series. Acquired by Sony in 2011.
Established: 1997
Location: Bellevue, Washington, USA
Current Projects: Unknown