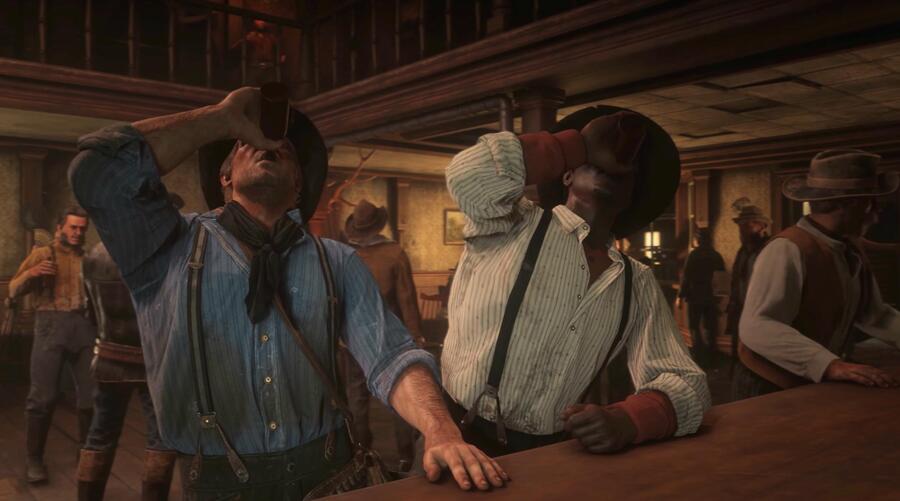 Red Dead Redemption 2 is the best reviewed PlayStation 4 game of all time, narrowly edging out the critical average of Grand Theft Auto V's remaster, and toppling exclusives like The Last of Us Remastered, God of War, and Uncharted 4: A Thief's End. Here's a round-up of some of the reviews so far.
Red Dead Redemption 2 is Rockstar's best game, and it's gripping from start to finish. It sets a new bar for open world interaction, providing an absurd level of detail across the board. It's an immaculately polished release that pulls no punches in its delivery, pushing both brutally mature themes and perfectly placed satire. While its clumsy controls and convoluted button layouts can ruin the fun on occasion, it's easy enough to look past these flaws when everything else is of such a high quality. Red Dead Redemption 2 is a modern masterpiece.
IGN - 10/10
Red Dead Redemption 2 stands shoulder-to-shoulder with Grand Theft Auto V as one of the greatest games of the modern age. It's a gorgeous depiction of an ugly period that's patient, polished, and a huge amount of fun to play, and it's combined with Rockstar's best storytelling to date. Even after finishing the lengthy story I can't wait to go back and play more. This is a game of rare quality; a meticulously polished open world ode to the outlaw era. Looking for one of this generation's very best single-player action experiences? Here's your huckleberry.
Rockstar Games has outdone itself again with Red Dead Redemption II. The up-close portrayal of the outlaw Van der Linde gang's unraveling is a compelling companion story that blends seamlessly with the original game, and depth and breadth of the open world is a technical triumph that every gamer should experience.
While Red Dead Redemption was mostly focused on John Marston's story, Red Dead 2 is about the entire Van der Linde gang -- as a community, as an idea, and as the death rattle of the Wild West. It is about Arthur, too, but as the lens through which you view the gang, his very personal, very messy story supports a larger tale. Some frustrating systems and a predictable mission structure end up serving that story well, though it does take patience to get through them and understand why. Red Dead Redemption 2 is an excellent prequel, but it's also an emotional, thought-provoking story in its own right, and it's a world that is hard to leave when it's done.
---
Did you spot the theme? Yeah, Red Dead Redemption 2's review scores are ridiculously high. At the time of writing there have been 87 critics on Metacritic and the lowest score is a very respectable 7/10, so that tells you everything you need to know. You're buying it, right?