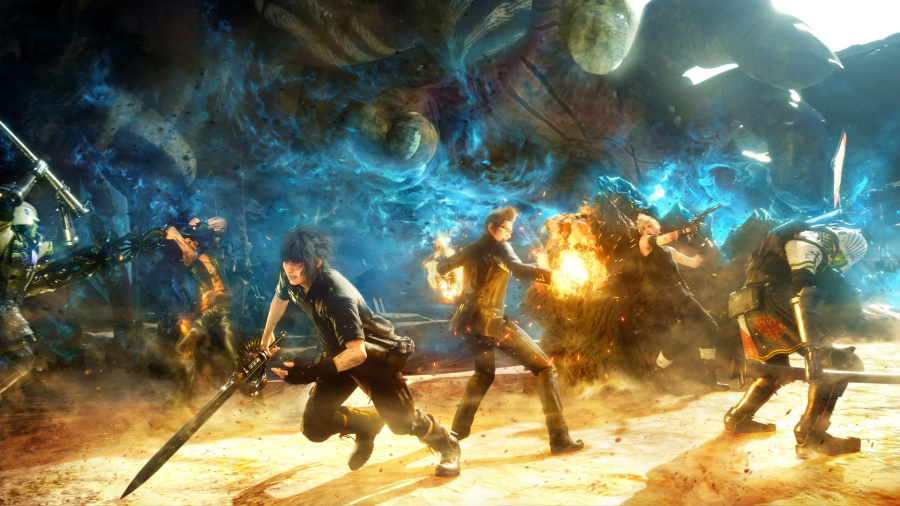 Jump onto your PlayStation 4 right now, and there'll be a 3.5GB update available for Final Fantasy XV's playable demo, Episode Duscae. We know, it is a bit weird that a demo's got a patch, but it promises to be well worth the hard drive space if you're a fan of Noctis and the gang.
So, what does the update actually bring to the table? For starters, you can now fight the big monsters that wander around in the lake. Apparently, they're incredibly powerful - even more powerful than the behemoth - and they can knock out one of your party members in a single hit, even if you've managed to grind the gang's levels all the way to 99. Speaking of battles, Noctis can now warp to safe safe spots during combat, and you'll finally be able to dodge roll while fighting, which should be a big improvement. There are also fresh team attacks to try out, too.
Moving away from combat, the patch implements numerous new social events between differing party members, along with new side quests that involve Noctis and just one other buddy - the bromance is strong in this one.
For what it's worth, we'll have updated impressions of Episode Duscae once we've explored the new update for ourselves, but in the meantime, feel free to tell us how you're finding it in the comments section below.
[via eu.square-enix.com]