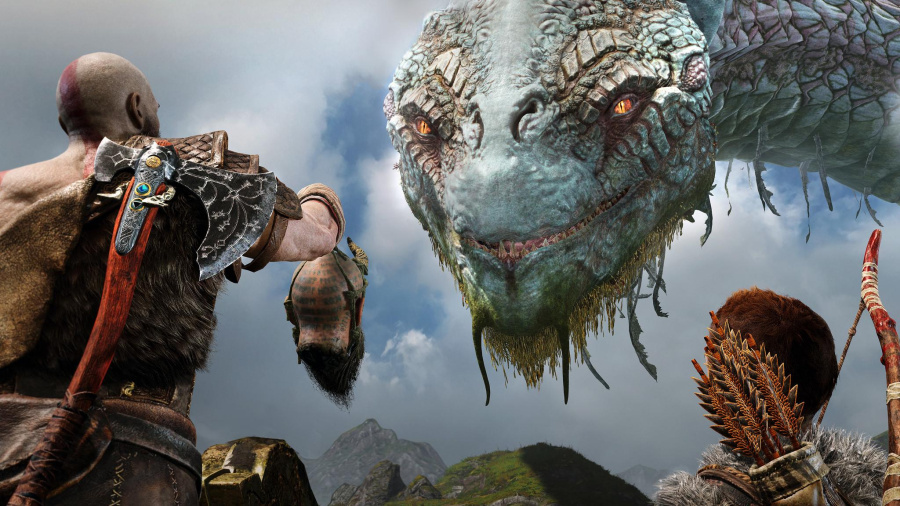 Long running cartoony baseball series Power Pro (as it's commonly known outside of Japan) has always been popular in its native country, and the latest instalment has batted its way straight to the top of the Japanese software charts. Jikkyou Powerful Pro Yakyuu launched on both PlayStation 4 and Vita, shifting a combined total of 183,000 copies -- more than enough to ensure first and second place on the charts, respectively.
Elsewhere, Nintendo Labo Variety Kit numbers fell hard, allowing God of War to jump above it and land in third place. The PS4 exclusive managed to move another 30,000 copies.
Meanwhile, the hardware charts paint an improved picture for Sony's consoles. After several weeks of low PS4 sales (supposedly due to some stock shortages), the current-gen system has bounced back. Across both the standard model and PS4 Pro, figures sit around the relatively comfortable 35,000 mark.
Hardware sales
Switch – 38,752 (34,165)
PlayStation 4 – 25,005 (4,480)
PlayStation 4 Pro – 10,004 (8,967)
PlayStation Vita – 4,562 (2,892)
New 2DS LL – 4,377 (4,191)
New 3DS LL – 2,840 (2,842)
2DS – 516 (439)
Xbox One – 123 (59)
Xbox One X – 56 (57)
Software sales
[PS4] Jikkyou Powerful Pro Yakyuu 2018 (Konami, 04/26/18) – 124,831 (New)
[PSV] Jikkyou Powerful Pro Yakyuu 2018 (Konami, 04/26/18) – 58,435 (New)
[PS4] God of War (SIE, 04/20/18) – 29,517 (75,608)
[NSW] Nintendo Labo Toy-Con 01: Variety Kit (Nintendo, 04/20/18) – 25,914 (116,324)
[NSW] Splatoon 2 (Bundle Version Included) (Nintendo, 07/21/17) – 18,664 (2,267,587)
[NSW] Kirby: Star Allies (Nintendo, 03/16/18) – 17,950 (451,439)
[PS4] Utawarerumono: Chiriyuku Mono he no Komoriuta (Limited Edition Included) (Aquaplus, 04/26/18) – 14,426 (New)
[NSW] Mario Kart 8 Deluxe (Nintendo, 04/28/17) – 13,191 (1,497,835)
[NSW] SD Gundam: G Generation Genesis for Nintendo Switch (Bandai Namco, 04/26/18) – 11,975 (New)
[PS4] The Legend of Heroes: Trails of Cold Steel II: Kai -The Erebonian Civil War- (Falcom, 04/26/18) – 11,345 (New)
[NSW] The Snack World: Trejarers Gold (Level-5, 04/12/18) – 10,482 (61,984)
[PSV] Utawarerumono: Chiriyuku Mono he no Komoriuta (Limited Edition Included) (Aquaplus, 04/26/18) – 8,591 (New)
[NSW] The Legend of Zelda: Breath of the Wild (Limited Edition Included) (Nintendo, 03/03/17) – 7,850 (969,276)
[NSW] Super Mario Odyssey (Bundle Version Included) (Nintendo, 10/27/17) – 7,244 (1,704,766)
[NSW] Naruto Shippuden: Ultimate Ninja Storm Trilogy for Nintendo Switch (Bandai Namco, 04/26/18) – 6,682 (New)
[PS4] Doukoku Soshite… (Limited Edition Included) (El Dia, 04/26/18) – 6,357 (New)
[NSW] Nintendo Labo Toy-Con 02: Robot Kit (Nintendo, 04/20/18) – 5,680 (34,309)
[PS4] Bravo Team (Bundle Edition Included) (SIE, 04/26/18) – 4,980 (New)
[PS4] Far Cry 5 (Ubisoft, 03/29/18) – 4,430 (127,388)
[PS4] Cities: Skylines PlayStation 4 Edition (Spike Chunsoft, 04/12/18) – 4,316 (21,432)
[via 4gamer.net, gematsu.com]