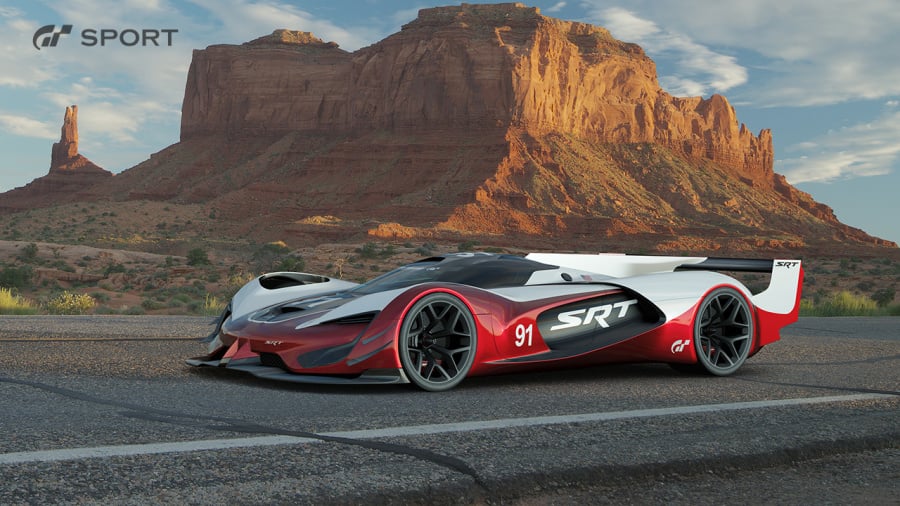 Gran Turismo Sport tore up the UK charts earlier this week, and now it's busy doing a victory lap in Japan. The PlayStation 4 exclusive sped straight to number one in the Land of the Rising Sun, shifting just over 150,000 copies. Not a bad result by any means, but the series continues its decline in its native Japan. It was followed by Sammy's most anticipated title, City Shrouded in Shadow, which sold around 50,000 copies.
The Evil Within 2 also made the cut, settling in third place. However, it wasn't able to top the sales of its predecessor, moving just about 43,000 copies. The first game did around 60,000 copies on PlayStation 4 alone -- it did another 60,000 or so on PlayStation 3 -- and at the time of its release back in 2014, that was considered a bit of a flop.
These new PS4 releases didn't really do much for the console itself, though. Hardware sales did jump, but only slightly, to about 31,000 units across the standard model and PS4 Pro.
Hardware sales
Switch – 31,092 (40,803)
PlayStation 4 – 25,075 (16,933)
New 2DS LL – 8,449 (10,569)
PlayStation 4 Pro – 6,203(5,773)
New 3DS LL – 6,187 (8,369)
PlayStation Vita – 3,535 (3,938)
2DS – 1,367 (1,565)
New 3DS – 195 (242)
Xbox One – 69 (71)
PlayStation 3 – 50 (65)
Wii U – 40 (58)
Software sales
[PS4] Gran Turismo Sport (Limited Edition Included) (SIE, 10/19/17) – 150,286 (New)
[PS4] City Shrouded in Shadow (Bandai Namco, 10/19/17) – 48,935 (New)
[PS4] The Evil Within 2 (Bethesda Softworks, 10/19/17) – 42,941 (New)
[PS4] Itadaki Street: Dragon Quest & Final Fantasy 30th Anniversary (Square Enix, 10/19/17) – 42,092 (New)
[PSV] Uta no Prince-sama: Amazing Aria & Sweet Serenade Love (Broccoli, 10/19/17) – 19,904 (New)
[PSV] Itadaki Street: Dragon Quest & Final Fantasy 30th Anniversary (Square Enix, 10/19/17) – 18,784 (New)
[NSW] Splatoon 2 (Nintendo, 07/21/17) – 16,483 (1,249,006)
[NSW] Mario Kart 8 Deluxe (Nintendo, 04,28,17) – 11,142 (758,597)
[PS4] Middle-earth: Shadow of War (Warner Bros., 10/12/17) – 8,083 (28,227)
[NSW] The Legend of Zelda: Breath of the Wild (Limited Edition Included) (Nintendo, 03/03/17) – 5,430 (616,383)
[NSW] Pokken Tournament DX (Nintendo, 09/22/17) – 5,224 (102,359)
[3DS] Mario & Luigi: Superstar Saga + Bowser's Minions (Nintendo, 10/05/17) – 5,092 (43,094)
[PS4] FIFA 18 (Limited Editions and Bundles Included) (Electronic Arts, 09/29/17) – 3,910 (79,701)
[PS4] No Heroes Allowed! VR (SIE, 10/14/17) – 3,464 (8,925)
[PS4] Pro Evolution Soccer 2018 (Konami, 09/14/17) – 2,987 (105,005)
[3DS] The Snack World: Trejarers (Level-5, 08/10/17) – 2,882 (183,780)
[NSW] Monster Hunter XX Nintendo Switch Ver. (Capcom, 08/25/17) – 2,814 (158,448)
[3DS] Animal Crossing: New Leaf Amiibo+ (Nintendo, 11/23/16) – 2,748 (256,413)
[NSW] NBA 2K18 (2K Games, 10/17/17) – 2,689 (New)
[PS4] The Legend of Heroes: Trails of Cold Steel III (Limited Edition Included) (Falcom, 09/28/17) – 2,473 (107,772)
[via 4gamer.net, gematsu.com]