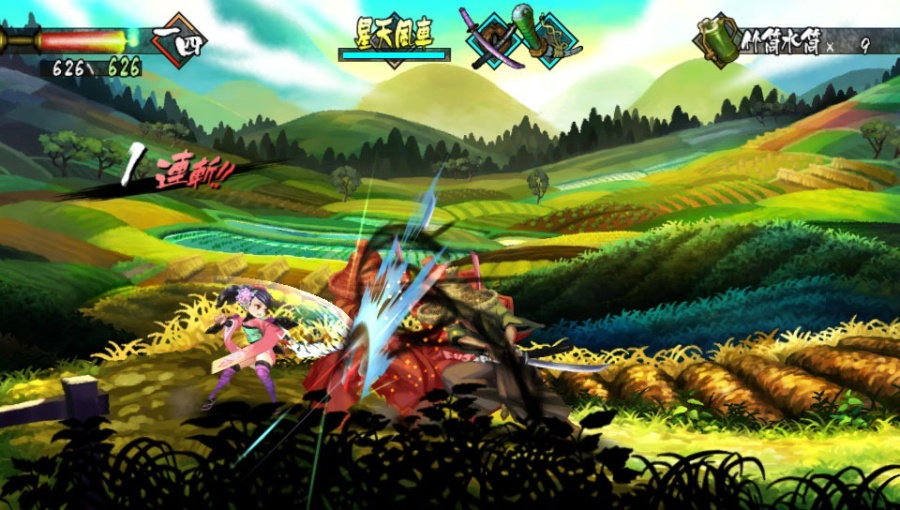 It's been over a month since the PlayStation Vita's price was slashed in Japan, but the system's still hanging on pretty well. While this week's Media Create update shows a 10k decline for the console, it still managed to shift a respectable 31,795 units. Let hope that it can continue to maintain a similar tally moving forward
The machine was propelled by Muramasa Rebirth, the handheld port of Vanillaware's popular Nintendo Wii side-scroller, which sold an impressive 45,660 units. The re-release debuted in fifth on the software charts, putting it ahead of the Wii U version of Dragon Quest X. We appreciate that the latter's an MMO, but that's still a pretty impressive result.
Elsewhere, it was a pretty lean week for both the PS3 and PSP, with One Piece: Pirate Warriors 2 and Pro Yakyuu Spirits continuing to linger on the software charts. Sony's flagship home console sold 19,069 units, while the PSP recorded a further 12,594 units. As always, we've included the full list of movers and shakers in the space below.
Hardware
3DS LL – 66,980 (76,553)
PlayStation Vita – 31,795 (41,073)
Wii U – 22,829 (11,398)
PlayStation 3 – 19,069 (22,942)
PSP – 12,594 (12,690)
Wii – 1,858 (1,720)
Xbox 360 – 598 (610)
Software
1. [3DS] Luigi's Mansion: Dark Moon (Nintendo, 03/21/13) – 110,840 (390,991)
2. [PSP] Fate/Extra CCC (Marvelous AQL, 03/28/13) – 72,883 (New)
3. [3DS] Animal Crossing: New Leaf (Nintendo, 11/08/12) – 57,835 (2,976,228)
4. [PS3] One Piece: Pirate Warriors 2 (Namco Bandai, 03/21/13) – 56,457 (331,082)
5. [PSV] Muramasa Rebirth (Marvelous AQL, 03/28/13) – 45,660 (New)
6. [Wii U] Dragon Quest X: Rise of the Five Tribes Online (Square Enix, 03/30/13) – 33,302 (New)
7. [PSP] Dungeon Travelers 2 (Aquaplus, 03/28/13) – 31,738 (New)
8. [PS3] Pro Yakyuu Spirits 2013 (Konami, 03/21/13) – 24,864 (126,254)
9. [PSP] Pro Yakyuu Spirits 2013 (Konami, 03/21/13) – 23,135 (103,753)
10. [Wii U] Game & Wario (Nintendo, 03/28/13) – 22,491 (New)
11. [PSV] One Piece: Pirate Warriors 2 (Namco Bandai, 03/21/13) – 17,180 (77,495)
12. [PSV] Sei Madou Monogatari (Compile Heart, 03/28/13) – 16,050 (New)
13. [PS3] Kingdom Hearts HD 1.5 Remix (Square Enix, 03/14/13) – 15,560 (173,375)
14. [Wii] PreCure All-Stars: Zenin Shuugou Let's Dance! (Namco Bandai, 03/28/13) – 15,373 (New)
15. [PSP] Sword Art Online: Infinity Moment (Namco Bandai, 03/14/13) – 13,215 (169,397)
16. [PSV] Soul Sacrifice (SCEJ, 03/07/13) – 11,577 (148,583)
17. [3DS] New Super Mario Bros. 2 (Nintendo, 07/28/12) – 10,328 (1,980,388)
18. [3DS] Super Robot Wars UX (Namco Bandai, 03/14/13) – 10,011 (144,212)
19. [3DS] Dragon Ball Heroes: Ultimate Mission (02/28/13) – 9,414 (140,208)
20. [PSP] Geten no Hana (Tecmo Koei, 03/28/13) – 8,644 (New)
[via 4gamer.net, gematsu.com, neogaf.com]