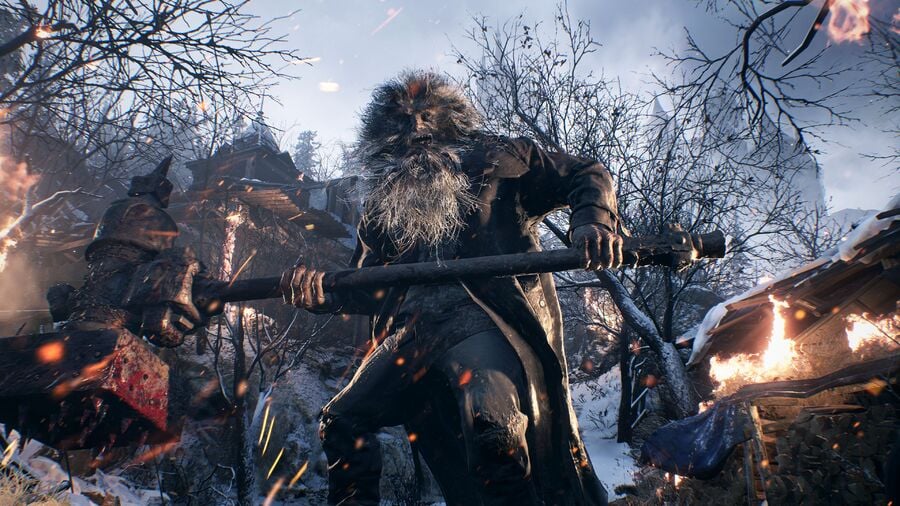 In addition to all of today's Resident Evil Village news, Capcom also confirmed the variety of physical and digital bundles that will be available at launch on 7th May. First, the most important part: the core game will cost £54.99/$59.99, so there's no exorbitant next-gen pricing on display here. Remember, you also get multiplayer spin-off Resident Evil Re:Verse bundled for free, and if you pre-order you'll snag the Mr. Raccoon Weapon Charm and Survival Resource Pack as well. Those who pre-order from the PS Store will score an exclusive mini-soundtrack as an added extra to boot.
There's also a Deluxe Edition, which includes the Trauma Pack. This features a variety of different in-game items, including the Samurai Edge firearm, Mr. Everywhere accessory, a Resident Evil 7: Biohazard "found footage" gameplay filter, alternative safe room music, tape recorder save points, and instant access to a harder difficulty tier. That costs $69.99.
You get all of the above with the Collector's Edition, in addition to a poster, steelbook case, a Chris Redfield figurine, a collector's box, and an artbook. You'll need to pod out $219.99 for that version, however. Finally, Capcom is putting together a bundle featuring both Resident Evil 7: Biohazard and Resident Evil Village, so you can enjoy Ethan Winters' entire arc so far.
Plenty of options for everyone, then, but which will you be picking up? Make sure you've got enough cash, stranger, in the comments section below.