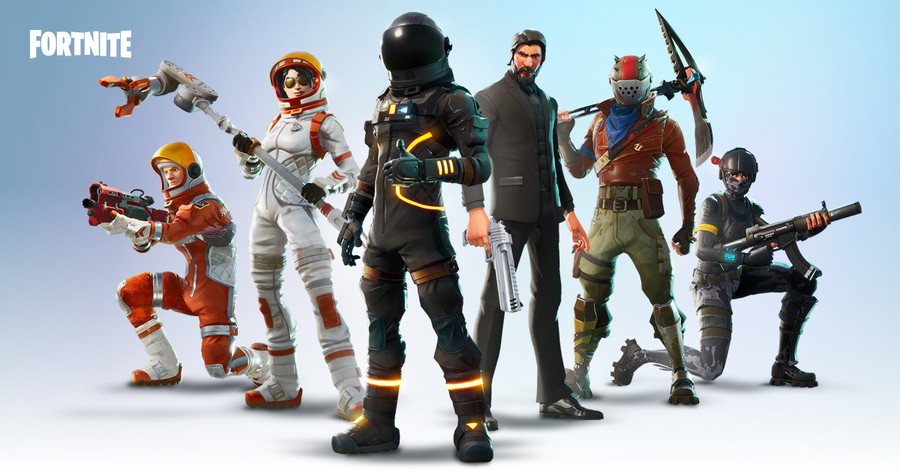 Fortnite challenges provide a perfect reason to play even more Fortnite. You know, besides the fact that it's intensely addictive stuff.
You'll need a Battle Pass to get the most out of it, which costs real money unless you know how to get yourself some free V-Bucks, but a Battle Pass lasts an entire season of Fortnite, which is about 10 weeks. So basically, if you play a lot of Fortnite already, it's great value.
Why? Because you'll earn all sorts of rewards from XP all the way up to exclusive outfits. It's also generally just nice to have a little goal to work towards as you play, to keep things fresh.
Anyway, let's take a look at the challenges for season four. Then we'll cover the basics of how it all works beneath that. Alternatively, you can check out other useful Fortnite guides by following these bullet point links:
Week 9 Challenges – 5,000 XP
| Challenge | Number to Complete | Reward |
| --- | --- | --- |
| Deal damage with explosive weapons to opponents | 500 | 5 Battle Stars |
| Search chests in Moisty Mire | 7 | 5 Battle Stars |
| Use a shopping cart | 1 | 5 Battle Stars |
| Visit different Named Locations in a single match | 4 | 5 Battle Stars |
| Follow the Treasure Map in the Haunted Hills | 1 | 10 Battle Stars |
| Shotgun eliminations | 4 | 10 Battle Stars |
| Eliminate opponents in Anarchy Acres | 3 | 10 Battle Stars |
What's a Battle Pass in Fortnite?
The Battle Pass in Fortnite provides weekly challenges that provide exclusive in-game rewards each season of Fortnite. Right now we're on season four, which has just entered its second week, and will end on July 9th.
Rewards can include outfits, gliders, pickaxes, emotes, and banner icons. They're all cosmetic, and none will give you an advantage within the game whatsoever. You'll also keep whatever you've earned so far for as long as Fortnite is playable.
The Battle Pass costs 950 V-Bucks, which is the name of the premium in-game currency. You can purchase 1,000 V-Bucks for £7.99.
A Battle Pass lasts for the entire duration of the season during which you bought it, and does not carry over to the following season. So if you purchase a Battle Pass right now, you'll have it for the duration of season four but it will expire on July 9th when season four ends. You'll then have to purchase a new Battle Pass to play season five of Fortnite.
What's the difference between weekly and daily challenges in Fortnite?
At this point, you might be confused about the difference between daily and weekly challenges in Fortnite. Basically, daily challenges reset every 24 hours and provide a small reward for performing an action within the game. This might be killing opponents, using a specific gun to deal damage, or placing highly in a certain mode of the game like squads or duo. 
You can only perform a single daily challenge per day, and it carries over to the next day if you fail to complete it in time. At any point you can delete a challenge though and pick up a new one if you're struggling, but bear in mind that you'll only get a new challenge each day. So it's only worth doing if you struggled to complete a challenge one day and want to give it up the next day, when you have a new challenge to perform in its place.
Finally, daily challenges are available for free to all players.
Weekly challenges reset every seven days, and provide tougher challenges that help you work towards exclusive Battle Pass rewards. You will need a Battle Pass to take on these challenges.
The challenges vary from using a specific weapon or type of weapon to deal damage or eliminate opponents, performing specific actions in specific locations, or searching chests – typically in a specific location.
Some challenges you have to complete in a specific match, while others you can take your time and perform across multiple matches. All challenges require you to complete the particular match of Fortnite you're playing at the time to register your progress though. Quit out from a match and any progress you've made towards a challenge will not count.
Finally, you don't have to complete the weekly challenges within the week they go live. You can complete any of them at any point during that particular season of Fortnite, though once the season ends the entire challenges reset.
Fortnite Blockbuster and Carbide challenges explained
Blockbuster and Carbide challenges are two new types of challenge first introduced during season 4, and are only available to Battle Pass owners – just like the weekly challenges.
Blockbuster challenges reward you each time you complete a set of weekly challenges, and then once again when you complete every single challenge in a season.
Carbide challenges provide costume rewards for reaching certain levels during a season of Fortnite. You'll earn a costume piece at levels 10, 20, 30, 40, and 65. Complete all five challenges and you'll unlock a special pickaxe.
When does the daily challenge reset in Fortnite?
The daily challenges reset at the following times depending on your location:
| Region | Time Zone | Reset Time |
| --- | --- | --- |
| United Kingdom | BST | 10am |
| Europe | CEST | 11am |
| East Coast US | EDT | 5am |
| West Coast US | PDT | 2am |
When do the new weekly challenges release?
During season three, the Battle Pass weekly challenges reset on a Thursday. Season four has shaken things up by moving this to Tuesdays, and they reset at the following times.
As of week five, the rest has once again returned to Thursday, though the reset time has altered slightly.
| Region | Time Zone | Reset Time |
| --- | --- | --- |
| United Kingdom | BST | 9 AM |
| Europe | CEST | 9 AM |
| East Coast US | EDT | 4 AM |
| West Coast US | PDT | 1 AM |
What were the previous challenges?
Week 8 Challenges – 5,000 XP
| Challenge | Number to Complete | Reward |
| --- | --- | --- |
| Deal headshot damage to opponents | 250 | 5 Battle Stars |
| Search chests in Salty Springs | 7 | 5 Battle Stars |
| Search seven chests in a single match | 7 | 5 Battle Stars |
| Search for Hungry Gnomes | 7 | 5 Battle Stars |
| Search between a Bear, Crater, and a Refrigerator shipment | 1 | 10 Battle Stars |
| Suppressed weapon eliminations | 3 | 10 Battle Stars |
| Eliminate opponents in Pleasant Park | 3 | 10 Battle Stars |
Week 7 Challenges – 5,000 XP
Challenge
Number to Complete
Reward

Deal damage with a pickaxe to opponents
250
5 Battle Stars
Search chests in Risky Reels
7
5 Battle Stars
Consume Hop Rocks, Apples, or Mushrooms
20
5 Battle Stars
Score a goal on different pitches
5
5 Battle Stars
Follow the treasure map found in Pleasant Park
1
10 Battle Stars
Assault rifle eliminations
5
10 Battle Stars
Eliminate opponents in Shifty Shafts
3
10 Battle Stars
Week 6 Challenges – 5,000 XP
Week 5 Challenges – 5,000 XP
Challenge
Number to Complete
Reward

Deal damage with SMGs to opponents
500
5 Battle Stars
Search chests in Dusty Divot
7
5 Battle Stars
Use a vending machine
3
5 Battle Stars
Dance with others to raise the disco ball near Loot Lake
7
5 Battle Stars
Follow the treasure map found in Greasy Grove
1
10 Battle Stars
Get minigun or light machine gun eliminations
2
10 Battle Stars
Eliminate opponents in Lucky Landing
3
10 Battle Stars
Week 4 Challenges – 5,000 XP
Challenge
Number to Complete
Reward
Deal damage with assault rifles to opponents
1,000
5 Battle Stars
Search chests in Wailing Woods
7
5 Battle Stars
Search 7 ammo boxes in a single match
7
5 Battle Stars
Visit the center of different storm circles in a single match
3
5 Battle Stars
Search between a Bench, Ice Cream Truck, and a Helicopter
1
10 Battle Stars
Trap Eliminations
1
10 Battle Stars
Eliminate opponents in Snobby Shores
3
10 Battle Stars
Fortnite Week 3 Challenges – 5,000 XP
| Challenge | Number to Complete | Reward |
| --- | --- | --- |
| Watch a match replay | 1 | 5 Battle Stars |
| Deal damage with pistols to opponents | 500 | 5 Battle Stars |
| Search chests in Lonely Lodge | 7 | 5 Battle Stars |
| Search rubber duckies | 10 | 5 Battle Stars |
| Follow the treasure map found in Salty Springs | 1 | 10 Battle Stars |
| Sniper rifle eliminations | 2 | 10 Battle Stars |
| Eliminate opponents in Tilted Towers | 3 | 10 Battle Stars |
Fortnite Week 2 Challenges – 5,000 XP
Fortnite Week 1 Challenges – 5,000 XP
| Challenge | Number to Complete | Reward |
| --- | --- | --- |
| Deal damage with sniper rifles to opponents | 500 | 5 Battle Stars |
| Search chests in Haunted Hills | 7 | 5 Battle Stars |
| Use a Port-a-Fort | 1 | 5 Battle Stars |
| Search F-O-R-T-N-I-T-E letters | 8 | 5 Battle Stars |
| Follow the treasure map found in Tomato Town | 1 | 10 Battle Stars |
| Pistol eliminations | 3 | 10 Battle Stars |
| Eliminate opponents in Flush Factory | 3 | 10 Battle Stars |