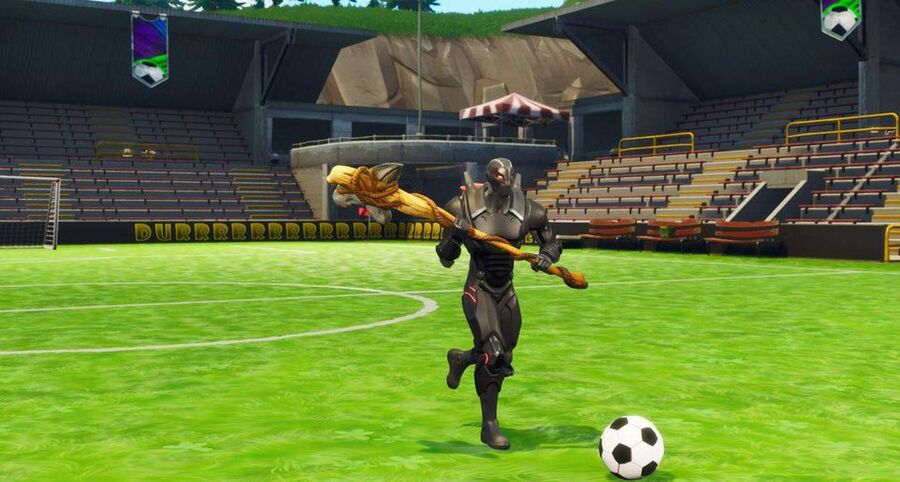 Scoring in five different soccer pitches is one of the week seven challenges in season four of Fortnite.
Complete it and you'll get a bunch of XP that goes towards those tasty season four Battle Pass rewards.
In this guide, we'll detail the exact location of every single soccer pitch in Fortnite, along with a handy map you can follow. We'll also provide a few tips and tricks on how to score with a bit more ease. 
Once you've completed this challenge, you can move on to the other difficult challenge from this week – finding the treasure detailed on the treasure map in Pleasant Park.
You can also learn more about how the Battle Pass, weekly challenges, and season four of Fortnite works in our definitive guide on the subject. Looking for other Fortnite guides? Here's our list of essential reads below:
Fortnite - How to score on five different soccer pitches
At this point you might be thinking "wait a minute, I haven't seen any soccer pitches in Fortnite", and you'd be right to think so. That's because there weren't any until now – Epic has just patched them in as part of this week's weekly challenges, and a likely tie in with the world cup that's kicking off shortly.
Find a soccer pitch and you'll find two goals and a ball. Your goal is to basically run into it to kick it, and ensure that the ball goes into the back of the net. It's as simple as that.
You do have to score in five different soccer pitches though – not five times on the same soccer pitch. The good news is that you don't have to score five times in a single match. That means you can do this across five matches, scoring a goal in one of the seven different pitches in each of them.
Fortnite - Soccer pitch locations
Refer to our handy map above to learn the locations of every single soccer pitch currently in Fortnite. They are located at:
South West of Junk Junction
Pleasant Park
The buildings in-between Snobby Shores and Tilted Towers
Flush Factory
Fatal Field
Risky Reels
South East of Tomato Town
Anything else I should know?
You have to complete this particular match of Fortnite to mark this challenge as complete. Quitting out will cause it to fail, so you'll have to start all over again. Don't be that guy.
Given that this challenge has gone live, it's highly likely that a bunch of people will be heading to these soccer pitches en masse over the next couple of days. To save yourself the trouble, it might be worth giving it up to a week to give this challenge a real try.
Alternatively, you can scout out a soccer pitch first and wait until the players leave the area. You might even have to enter the storm to complete this challenge if you're really struggling, but that's absolutely fine.
Now you can move on to the other difficult challenge for this week, finding the treasure map located at Pleasant Park, and the subsequent treasure at Tilted Towers.