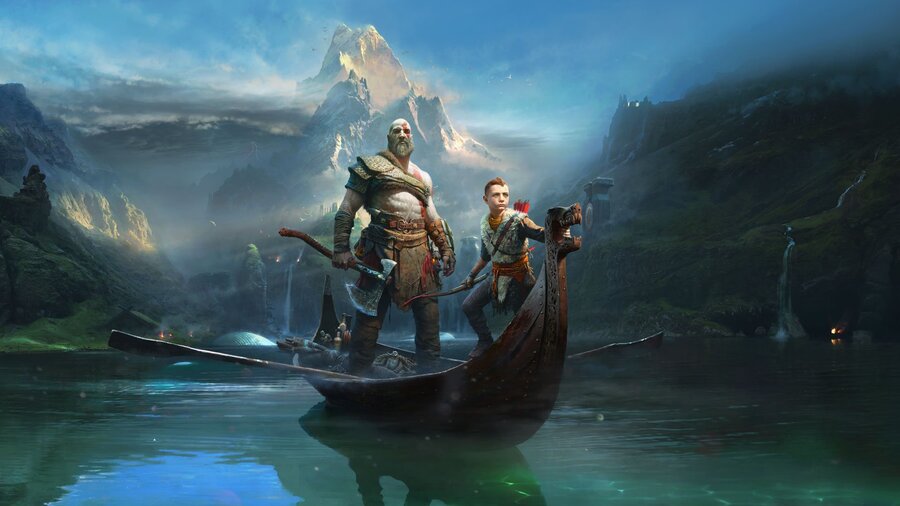 God of War is now on the PlayStation 4 and PC, and if you haven't read our glowing review yet then you know what you need to do. With such a major release, we figured that we'd answer a handful of your most frequently asked questions pertaining to Kratos' latest and (arguably) greatest adventure. For more, refer to our God of War guide.
God of War: What's Its Release Date?
God of War releases exclusively on the PlayStation 4 from 20th April, 2018. This is a simultaneous worldwide launch date.
God of War: Are There Pre-Order Bonuses?
God of War's pre-order bonus includes three shield skins which change the cosmetic look of Kratos' spherical defence mechanism. These don't alter gameplay at all. Certain retailers (like GameStop or EB Games) are also bundling in the Luck of Ages XP Talisman, which increases XP and Hacksilver gain, as well as your Luck statistic.
God of War: When Will Pre-Loading Begin?
If you pre-ordered God of War digitally, then you'll be able to download the game a couple of days prior to release. You'll need to wait until launch day to play, but downloads should begin on 18th April, 2018 according to Sony.
God of War: Do You Need to Play the Previous Games?
The new God of War game has a self-contained storyline which you'll be able to follow fairly easily without any prior knowledge of the franchise, however there are strong references and call-backs to previous instalments which will lose context without a general understanding of the series' history. We'd recommend either playing through God of War III Remastered on the PS4 or watching a recap video on YouTube if you want to get the most out of the game.
God of War: How Long Does It Take to Beat?
It'll take you around 25 to 30 hours to complete God of War's main storyline, although your mileage will vary depending on how many optional tasks you complete during the journey. To 100 per cent complete the game – including finding all of the collectibles, finishing all of the side-quests, and beating all of the optional bosses – you'll need to set aside upwards of 50 hours.
God of War: Is There a Day One Patch?
There is a day one patch for God of War, but the details of this are bound by Sony's embargo. We can say it's not an enormous one, so you should be fine.
God of War: Does It Have a Photo Mode?
At launch, there is no photo mode option in God of War. However, the team at Sony Santa Monica have confirmed that this feature is in the works, and will be patched in at a later date.
God of War: What Difficulty Options Are Available?
God of War has four different difficulty options, as outlined by the developer:
Give Me A Story: a light challenge allowing you to focus on the story.
Give Me A Balanced Experience: the default option allowing for a balanced experience.
Give Me A Challenge: for fans of action games, this is a challenging option.
Give Me God of War: re-balanced for maximum challenge, includes unique AI behaviour and enemy placements. Cannot be changed once selected.
Upon changing the difficulty in-game, you'll have to restart at the nearest checkpoint. It's worth reiterating that 'Give Me God of War' cannot be changed, however.
God of War: Is There Multiplayer?
No, God of War is a strictly single player experience. There are no multiplayer features in the game at all, and you can enjoy everything it has to offer offline.
God of War: Is There DLC?
Sony hasn't confirmed any DLC for God of War at the time of typing. It's possible that the game may be extended with an expansion pack similar to the one released for Horizon: Zero Dawn, but this is purely speculation on our part, and nothing has been announced.
God of War: Are There Microtransactions?
There are no microtransactions at all in God of War.
God of War: Do You Need a PS4 Pro?
No, you can play God of War on a standard PS4 and have a great experience. On a standard PS4, God of War runs at 30 frames-per-second in 1080p; on a PS4 Pro, the game runs at 30 frames-per-second in checkerboard 2160p. The PS4 Pro also includes an option to lower the resolution to 1080p and run with an unlocked 60 frames-per-second target.
God of War: Is It 4K with HDR?
Yes, God of War includes 4K support on the PS4 Pro. The game renders in checkerboard 2160p at 30 frames-per-second on the PS4 Pro. Both the PS4 Pro and standard PS4 offer HDR support, but only with compatible television screens.
God of War: What Is the Stone Mason Edition?
God of War's Stone Mason Edition is its primary Collector's Edition. In addition to including the game in a Steelbook Case, it also features a 9" Kratos and Atreus statue, four 2" carvings, an exclusive lithograph, a cloth map, the Stone Mason's ring, and a keychain featuring Mimir's talking head. You'll also get some in-game content, including the Defender of the Chosen Shield, the Exile's Guardian Shield, the Death's Vow Armour set, a God of War digital comic, a God of War digital art book, and a dynamic theme.
You can purchase the God of War Stone Mason Edition through here.
God of War: Is There a PS4 Pro Bundle?
Yes, there is a God of War PS4 Pro bundle which features custom artwork inspired by Kratos' axe. This can be purchased from Amazon in the United States, but is exclusive to GAME in the UK.
---
Do you have any other God of War questions? Will you be picking up the game this week on PS4? Scream about Sparta in the comments section below.