How do you score goals past goalkeepers in FIFA 22? While it may sound self-explanatory, the goalkeepers in EA Sports' football franchise this year are superhuman, making it particularly difficult to slot the ball away. As part of our FIFA 22 guide, we're going to explain how to score goals past goalkeepers in this year's game. For more information, like Best Controller Settings and Camera Settings and Best Wonderkids and Young Players with High Potential in Career Mode, then click through the links.
FIFA 22: How to Score Goals Past Goalkeepers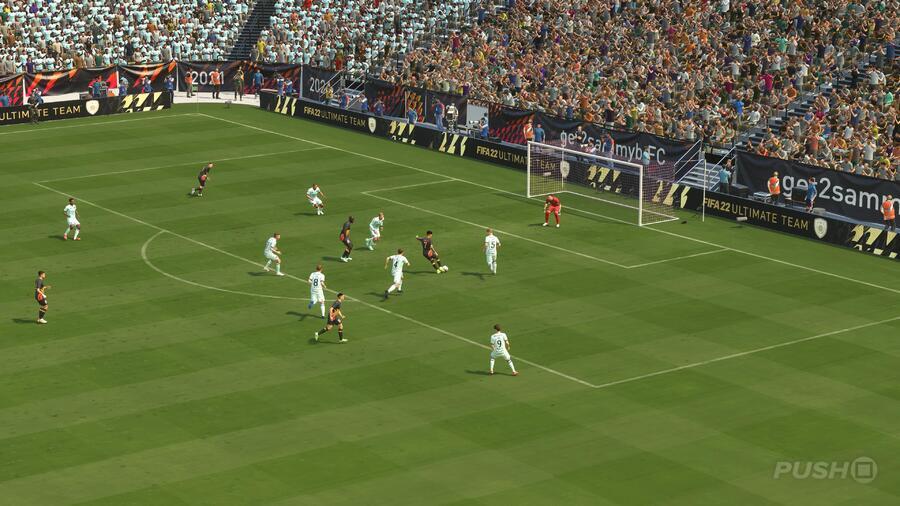 In order to learn how to score goals past goalkeepers in FIFA 22, you're first going to need to learn how to engineer opportunities. There are two ways you're going to be looking to score: Outside the Box or Inside the Box. You can refer to our Attacking Tips, including How to Score More Goals, for some suggestions, but basically you're going to need to implement the Best Formations and Custom Tactics for FUT to make sure your team is setup correctly.
Timed Finesse Shots are incredibly effective outside the box in FIFA 22 with some practice and the right Players. Look for Players like Lionel Messi, who have high Curve and Long Shot attributes, as well as the Long Shot and Finesse Shot traits. Once you're outside the box, shoot with R1 + Circle, and then press the Circle button a second time as your Player pulls back their leg in order to time it. If done correctly, a green glow will appear around your Player Indicator to demonstrate perfect timing.
Meanwhile, Low Driven Shots are the best inside the box. You can perform these by pressing L1 + R1 + Circle, and if done correctly you'll drive the shot along the ground. This is because goalkeepers have less effective saving animations when the ball is fired low, meaning you'll be less susceptible to their acrobatics. Try to shoot across your body. Taking these kind of shots will also reduce the likelihood of defenders getting blocks, again increasing your chances of scoring.
If you're struggling to find space then remember to take advantage of the Best Skill Moves to Learn to get defenders to commit and open up plenty of space. Ideally you want there to be no impediments when you shoot so that you can slot the ball home with a high level of accuracy. Remember to take your finger off the Sprint button (R2) before shooting to ensure a tidier finish. Combine all of these strategies and you'll be able to score goals past goalkeepers fairly comfortably.
---
How do you score goals past goalkeepers in FIFA 22? Tuck your thoughts away in the comments section below, and check out our FIFA 22 guide for more information. You can also find Squad Battles - All Rewards, Release Dates, and Times, Division Rivals - All Rewards, Release Dates, and Times, and FUT Champions - All Rewards, Release Dates, and Times through the links.