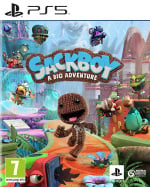 Publisher:
Sony Interactive Entertainment
/
Developer:
Sumo Digital
Release Date:
12th Nov 2020 (USA)
/
19th Nov 2020 (UK/EU)
Sackboy: A Big Adventure might lack LittleBigPlanet's level editor, but it makes up for it with a lighthearted collection of levels that are super fun to play alone or with friends. In fact, some stages require at least two people to play, as they're designed specifically for co-op. The end result is a robust and family friendly action platformer that's built with co-op in mind. Dressing up Sackpeople, tackling levels together, and slapping each other about is highly entertaining.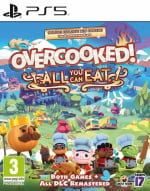 Publisher: Team 17 / Developer: Ghost Town Games
Release Date: 12th Nov 2020 (USA) / 19th Nov 2020 (UK/EU)
It got its start on PS4, but Overcooked: All You Can Eat is the definitive co-op cooking experience on PS5. Bringing together everything from the two main games and their DLC, then remastering it all with a fresh look, this is a fantastic point of entry for you and your co-op loving pals. Up to four chefs must work together to fulfil food orders in a timely manner, all the while contending with increasingly crazy kitchens. Amazing fun both online and locally, this game truly challenges you to work together, and it's uproarious fun.
Publisher: Electronic Arts / Developer: Hazelight
Release Date: 26th Mar 2021 (USA) / 26th Mar 2021 (UK/EU)
When you think of co-op games, one should spring to mind immediately: It Takes Two. This action adventure is from the makers of Brothers: A Tale of Two Sons and A Way Out, and sees you and a partner take on the role of an estranged couple. Turned into dolls by their daughter's tears, you and a friend must go on a wildly imaginative, endlessly varied, adventure to return to normal. Constantly presenting you with new ideas, each as good as the last, you'll never grow weary of this delightful game, playable locally or online.
---
That's what we reckon, but what about you? What do you think are the best PS5 co-op games? Do you agree with our list of the best co-operative titles for PlayStation 5, or have we missed out some favourites? Team up in the comments section below, and be sure to check out our list of the Best PS5 Games.