Jak X: Combat Racing has released on the PlayStation 4 as a PS2 Classic and it's made us realise just how rubbish Sony's new-gen console is for good ol' arcade racers. They exist, of course: Trackmania Turbo's fine; DriveClub's decent (although it's more simcade than, say, SEGA Rally). But where are the accessible racing games of yesteryear? They're all but dead these days.
Naughty Dog's not-so seminal late-gen car combat karter bizarrely plugs a gap, then – an indictment of the state of a once-popular genre perhaps. It's a cool game, though, even if its online multiplayer has been stripped out and its gameplay is very much indicative of the time; rubber-banding is prominent here, so brace yourself for some unexpected last-minute losses.
The cool thing about the game looking back on it now is how obvious it is that Naughty Dog wanted to tell stories. Uncharted creator Amy Hennig was the director on the title, with The Last of Us lead Neil Druckmann working as a programmer. The same team would eventually go on to create Drake's Fortune, and you can see the foundations of that here, as it settles for genuinely amusing cut-scene interludes.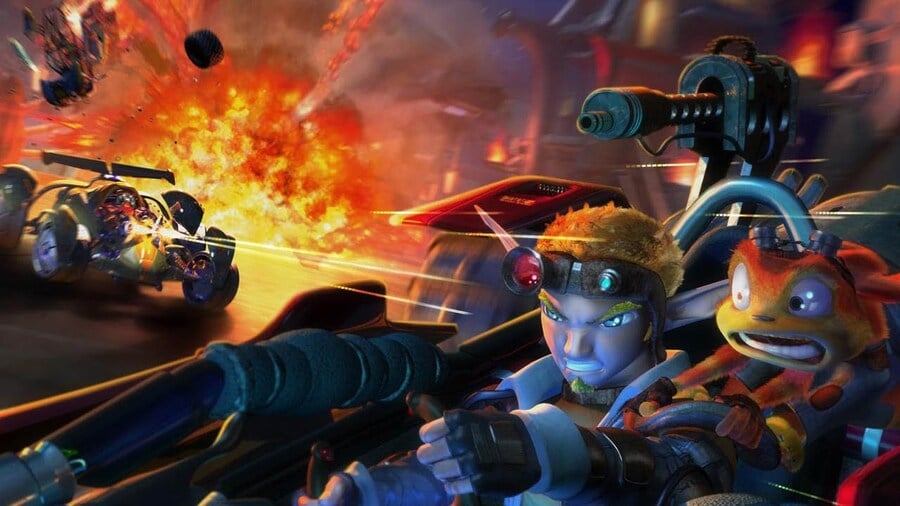 Much like Crash Team Racing a decade or so before it, there's an actual campaign here rather than a mere series of connected races. Vehicle customisation factors, while the gameplay is split between more traditional sprints and combat arenas. It does feel like a happy medium between Mario Kart and Twisted Metal, more mature than the former but less grisly than the latter.
The controls are weird from a modern point of view, with acceleration mapped to the face buttons and weapons assigned to the shoulder buttons. It does feel fairly responsive, though, even if the gameplay is particularly framey when things get hectic – an irritation on the supercharged PS4 Pro hardware. Visually it looks good, but there's that distinctive PS2 mud to the presentation.
But if you're looking for a kart racing game on your PS4, this may very well be your best bet for now. It's crazy that the genre has faded so hard that a ten year old port of a Naughty Dog spin-off is left to fill the gap, but that's exactly where we're at. Here's hoping Crash Team Racing gets a full remake and lifts us out of this mire next year, eh?
---
Have you picked up Jak X for your PS4 yet? Are you distressed by the real lack of arcade racers on the PS4 these days? Don't bother with the brakes in the comments section below.