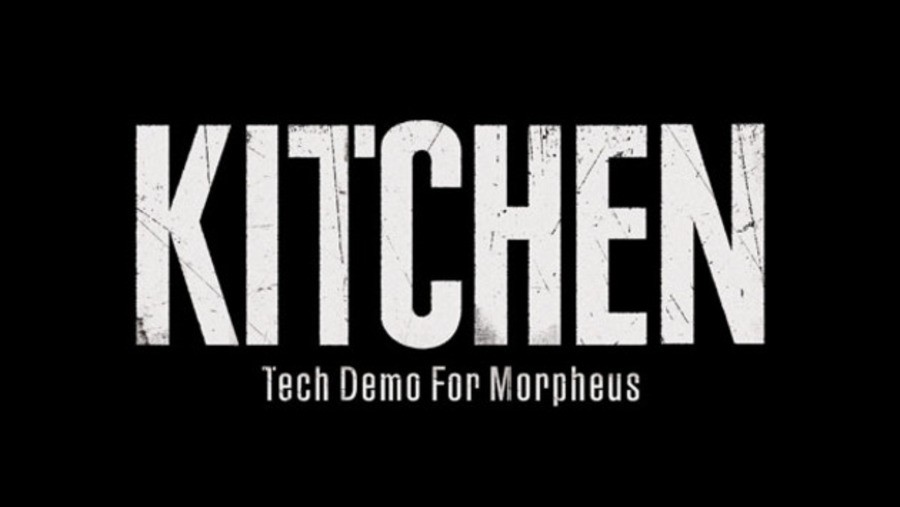 Republished on Saturday, 31st October 2015: We're bringing this article back from the archives to celebrate Hallowe'en today. The original text follows.
Originally published on Friday, 25th September 2015: PlayStation VR is a real product. I should know – I had one of the potentially expensive peripherals strapped to my bonce for a good part of the afternoon. It marks the first time that I've gotten eyes-on time with Sony's virtual reality headset, and I must admit that I'm quite taken with the technology. My first taste of the accessory came courtesy of Capcom's gruesome Kitchen – a demo that's garnered millions of reaction video views since debuting at E3 2015 earlier in the year. And having screamed through the sampler like a small child, it's easy to see why.
The five minute taster sees you seated in a chair with your hands bound. There's a limp body in front of you, lying in front of a grungy kitchen counter. One of the most impressive things about PlayStation VR – which is difficult to convey until you try it for yourself – is the sense of depth; the fact that there's a 3D screen strapped to your face means that your surroundings feel vast, which they wouldn't on a standard high-definition screen. It's not that the titular kitchen is particularly big, but it feels like a real place as opposed to a render. And that makes the events that follow all the more harrowing.
As the demo begins, the aforementioned body stumbles to his feet and pulls out a knife. He motions for you to present your hands, and begins to cut through the rope tied around them. But things take a terrible turn as a ghastly figure straight out of the Grudge snatches the dagger from your accomplice and wields it in your face. This is where I first felt that mysterious buzzword 'presence': even though I knew that I was sat in a sweaty convention booth in the centre of a show floor, I felt the need to move my body away from the ensuing threat. It was an instinctive reaction that really impressed me – my brain had been tricked.
As the demo progresses, you're left to sit and wait while your friend is bundled away by the straggly haired mass murderer who's keeping you both company. And as a decapitated head rolls to the foot of your feet, you know that you're next. But here's the other impressive thing about PlayStation VR: there's no escape. With any other survival horror game, it's possible to look away from the display if you need a little respite. But with your entire field of view surrounded by the game world, the only thing that you can do to escape is to close your eyes – and even then you can't get away from the sounds.
I kept my eyes open and proceeded to scream like a little girl when a hand reached down right in front of me and finished me off. Once again, my instinct was to jerk my body backwards, and attempt to pull my pursuer away. It really is the most profound response – as I sit here reflecting upon my experience, I know that I was never under threat in reality. And yet this is clearly what's so special about PlayStation VR and this new generation of virtual reality in general: it tricks your mind, and forces your body to respond. If developer's can expand upon this potential, then Sony may have something special here.
---
Would you be willing to give Kitchen a go, or are you too chicken to try something like this in virtual reality? Scream in the comments section below.