Description will appear here shortly...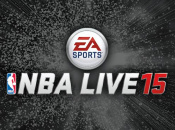 Publisher's got balls
This author will openly admit that he doesn't know his basketball from his netball, but that doesn't mean that the sport isn't all the rage in various parts of the world. It's little wonder, then, that EA Sports is still eager to muscle its way into the slam dunking space with NBA Live 15 for the PlayStation 4 – the...
For more information, visit: http://www.pushsquare.com Twitter -- http://www.twitter.com/pushsquare Facebook -- http://www.facebook.com/pushsquare Instagram --http://www.instagram.com/pushsquare
Hold on there, you need to login to post a comment...