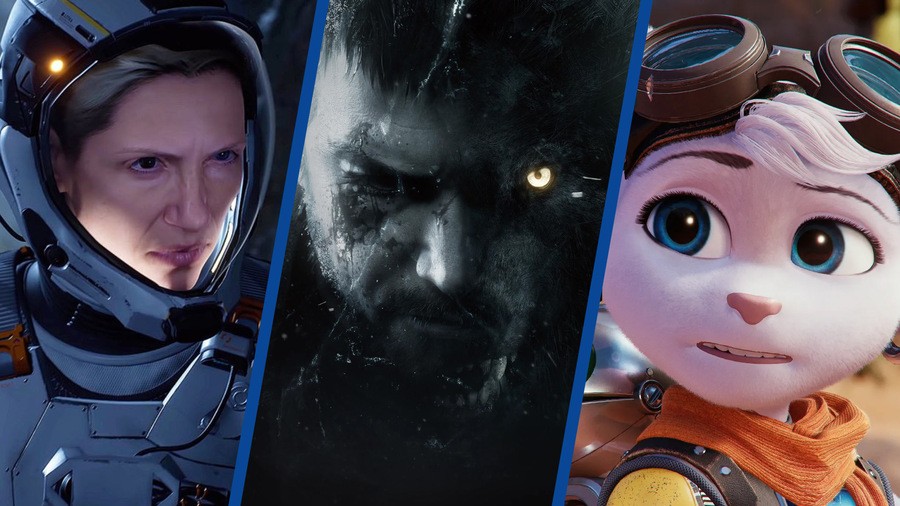 With the halfway point of 2021 fast approaching, we decided to take stock of the last six months by tasking the lovable and enthusiastic Push Square community with ranking its favourite PlayStation games of the year so far. That resulted in more than 5,000 votes placed across the past five days, with PS5 exclusives clashing and PS4 experiences still riding high. It leaves us with an excellent top 10 list that surely has at least something for everyone. But if not, we've still got half the year left for you to find something to love. So, let's take a look at your top 10 PS5, PS4 games of 2021 so far.
10. Disco Elysium: The Final Cut - 116 votes (2% of total votes)
9. Yakuza: Like a Dragon - 132 votes (2%)
8. Hitman 3 - 164 votes (3%)
7. Control: Ultimate Edition - 193 votes (4%)
6. It Takes Two - 193 votes (4%)

Cloud Strife's triumphant return on PS4 just wasn't enough for you lot, as the moody hero breaks into the top five a year later thanks to a current-gen upgrade packaged alongside a sweet piece of DLC. Wutai's own Yuffie stars in a new story that details what happens when the main protagonist isn't around to swing his Buster Sword about. And while it may be a somewhat short experience, fans of the PS1 classic will find a lot to love. Plus, the base game looks and runs better than ever now. Square Enix fixed Cloud's front door, so the PS5 version sort of has to rank highly as a result.
Commander Shepard is finally back and he/she is looking better than ever in this comprehensive remaster of the RPG trilogy. BioWare really went to town, ensuring every detail shines for the new generation and modernising the mechanics and gameplay aspects that needed it most. You know what you're going to get with Mass Effect, and that is exactly why fans flocked to the role-playing masterclass of a series in their droves these past few months. Save the galaxy, pass some Paragon or Renegade checks, and maybe even romance an alien or two along the way. The Mass Effect franchise is back, and the world is a better place for it.
Resident Evil Village has quickly cemented itself as one of the best entries in the horror franchise so far. Love him or hate him, but protagonist Ethan Winters returns for a wild trip through a remote European village brimming with tall ladies, werewolves, and all manner of other monsters. No zombies to be seen around these parts. It results in another awesome first-person experience with excellent boss fights, intense action, and memorable characters that will go down in Resident Evil lore. Who knows what's next for the Winters family, but we'll certainly be there to witness the conclusion. A great start for the series on PS5.
2. Returnal - 816 votes (15%)
Housemarque's AAA take on the rogue-like genre has catapulted the Finnish studio into second place with Returnal. It's hardly a surprise, though, given the developer's past work on the likes of Resogun and Nex Machina. Although, with the support and funding of Sony fuelling its efforts, the plight of Selene Vassos takes things to a whole 'nother level. Your senses are under constant assault as a barrage of alien lifeforms throw all they've got at you, regularly resulting in death after death. Those setbacks just make the highs and triumphs feel even better, however. Housemarque has set a brand new standard for the rogue-like genre — one we don't expect to be topped any time soon. What a game.
The planet-trotting duo of Ratchet and Clank top your list of the best PS5, PS4 games of 2021 so far! Joined by Rivet and Kit, the latest twosome is integrated into the story so well that we can't imagine a follow-up without them. That doesn't mean fans of the long-running saga were left by the wayside, however. The classic gameplay loop of action and platforming returned with a few new bells and whistles to keep us entertained, all the while looking outstanding and giving purpose to the PS5 SSD. Will it be the best overall PS5, PS4 title of 2021? We'll reconvene in another six months to find out.
---
How does your personal list of the best PS5, PS4 games of 2021 so far fare against the Push Square community's top 10? Do you agree or has one certain title been forgotten about? Let us know in the comments below.