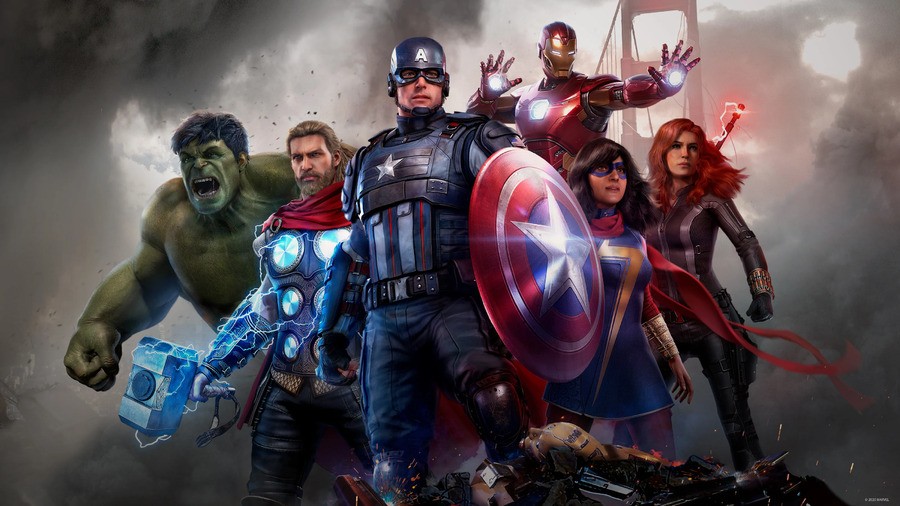 Marvel's Avengers is the latest PlayStation 4 game from developer Crystal Dynamics. Scheduled to launch on 4th September 2020, it represents the studio's first title since rebooting the classic Lara Croft franchise with Tomb Raider, Rise of the Tomb Raider, and Shadow of the Tomb Raider. The game will be published by Square Enix as a multi-platform release that promises to stick around with lots of post-launch support in the form of new superheroes, missions, and cosmetic items. Here's everything we know so far about Marvel's Avengers, including its story, gameplay mechanics, and what to expect after release.
Marvel's Avengers: A Brief Description
First of all, it's important to define what type of game Marvel's Avengers is. This is an experience similar to the likes of Destiny and Destiny 2 where players can team up to complete various missions online at certain points throughout the campaign. They are titled War Zones. Alongside those levels are single-player only activities where you will play as a pre-determined superhero. They are titled Hero Missions. In combination, these two types of levels tell a cohesive story focused entirely on the Avengers.
Marvel's Avengers: The Story
Speaking of which, you may want to get an idea of the narrative behind Marvel's Avengers. The game does not take place in the Marvel Cinematic Universe -- it instead draws inspiration from the long line of Marvel comic books.
The story starts on A-Day, a celebration which sees five founding members of the Avengers (Captain America, Iron Man, Thor, Black Widow, and Bruce Banner) unveiling a new headquarters in the city of San Francisco as well as a Helicarrier powered by a Terrigen Crystal.
However, as the event progresses, a terrorist organisation led by villain Taskmaster attacks the Golden Gate Bridge and the surrounding area. This results in the death of Captain America. The Avengers are blamed for the attack, and five years later, San Francisco finds itself under the control of A.I.M with superhero stature outlawed. At the same time, Kamala Khan learns of her own superpowers as well as a conspiracy regarding the evil, aforementioned corporation. She then takes it on herself to reassemble the Avengers and bring about justice.
In the June 2020 Marvel's Avengers trailer, it is confirmed that M.O.D.O.K. (Mental Organism Designed Only for Killing) will be one of the game's main villains alongside the Abomination and Taskmaster.
Marvel's Avengers: All Playable Characters
At the time of writing, the playable characters included in Marvel's Avengers are:
Captain America (Steve Rodgers)
Iron Man (Tony Stark)
Black Widow (Natasha Romanoff)
Thor (Thor Odinson)
The Hulk (Bruce Banner)
Ms. Marvel (Kamala Khan)
Supporting characters include Nick Fury, Hank Pym, Maria Hill, and Dum Dum Dugan. For more information, make sure to check out our Marvel's Avengers - All Playable Characters guide.
Marvel's Avengers: Gameplay and Abilities
Marvel's Avengers is a third-person action experience that will allow you to customise your roster of superheroes with new abilities, skills, and upgrades. Multiple skill trees for each character give you the chance to make each superhero your own with various movesets to utilise during combat, from simple light and heavy attacks right the way through to ultimate abilities. Thor, for example, can be customised using four different upgrade paths -- Melee, Ranged, Intrinsic Ability, and Intrinsic Overcharge.
Heroic Moves can also be taken advantage of during combat, with each superhero gaining access to three. Split up into categories of Assault, Ultimate, and Support, these special attacks can turn the tides of battle in your favour if activated at the right time. The Assault and Ultimate abilities are fairly self-explanatory, but it's the Support move which charges up your teammates during co-op play. All of these attacks are governed by a meter which is powered by performing basic light and heavy moves.
Marvel's Avengers: Customisation and Loot
Alongside customisation of your gameplay abilities, Marvel's Avengers also allows you to switch up the look of each playable character through loot and cosmetic items. You can modify pieces of equipment to accommodate for bonuses and perks alongside obvious stat boosts. Think of Destiny 2's loot system and you've got the right idea. Rarity tiers will make better pieces of gear more obvious to the player while completing a certain set will grant extra perks on top of the basic stat rolls each piece of gear comes with.
On top of that, Marvel's Avengers will ship with cosmetic costumes that harken back to numerous moments in comic book history. Some of these will be purchasable through an online store, but Crystal Dynamics has promised that it will never integrate pay-to-win mechanics. You'll also be able to earn certain outfits by simply playing the game.
Marvel's Avengers: Future Content and the PS5 Version
Marvel's Avengers is more than just the game you buy at launch, however. Following its release, the game will be continually updated for free with new playable characters, missions, and regions. This also includes a PlayStation 5 version once the console launches in late 2020. If you already own the PS4 version, this will be a free upgrade that takes advantage of the next-gen system's enhanced power. Two graphical modes will be on offer -- one which boosts the frame rate to 60FPS alongside a dynamic 4K resolution while the other takes the visuals beyond that.
---
How excited are you about playing Marvel's Avengers this September? Pick your favourite superhero in the comments below.