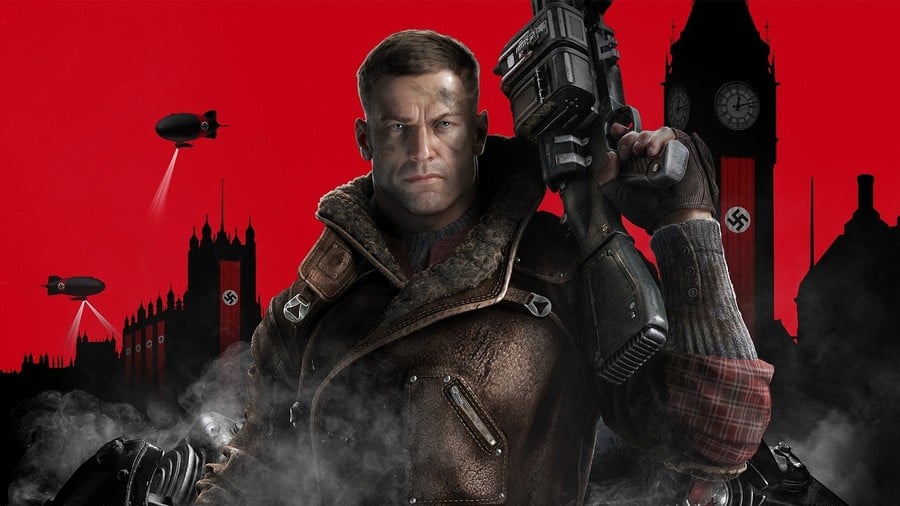 The follow-up to MachineGames' acclaimed first-person shooter Wolfenstein II: The New Colossus has arrived to take out some Nazi tail, and reviews are beginning to trickle out like blood from protagonist B.J. Blazkowicz's nose. We've got our strongest soldier Alex Stinton working his way through this one as we type, so expect our verdict to arrive soon.
Wolfenstein II: The New Colossus has become the new benchmark for single-player shooter campaigns. The sheer amount of freedom that players have to go along with the excellent gunplay make it one of the best shooters in years on those merits alone. Add in what is one the year's most compelling, important narratives and you have a recipe for an instant classic on your hands. Wolfenstein II: The New Colossus isn't just 2017's best shooter, it's a game that will be looked back upon as one of the standout titles of this generation when it comes to an end.
B.J. is comfortable killing thousands upon thousands of his enemies if they stand between him and a bit of peace. But killing isn't all that Wolfenstein 2: The New Colossus offers. It's the rare first-person shooter that explores the first time its hero pulled a trigger; it's the rare first-person shooter that is comfortable connecting with the primal, untamed parts of your brain while celebrating just how fucking good it feels to lay out a Nazi.
Clocking in at around 15 hours, Wolfenstein 2: The New Colossus is a big, booming shooter with a well-paced plot, slick levels, and great gunplay - a package we don't see very often in 2017. October might be a crowded month, but this is one game that needs to be experienced.
Wolfenstein II: The New Colossus delivers an enjoyable action packed first person shooter experience. The alternate take on history makes for an interesting story populated by characters who are easy to care about. The characters that the player is supposed to hate are quite easy to despise since the game doesn't hold back about cranking up their despicable level. Some sequences are hard to sit through since they don't shy away from racism, antisemitism, animal cruelty, domestic violence and just sadistic behavior in general, but this features Nazis, so expecting sunshine and rainbows would be a naive viewpoint. Overall Wolfenstein II: The New Colossus delivers a memorable experience that isn't afraid to pull punches to get an emotional response but still maintains the over the top action movie camp factor. Most importantly, it delivers fast paced shooting action and explosive carnage which is what people typically want from a first person shooter.
---
Did you Nazi these high reviews coming? God, we've really overused that pun now, haven't we? Look, just tell us whether you're planning to buy this game in the comments section below.