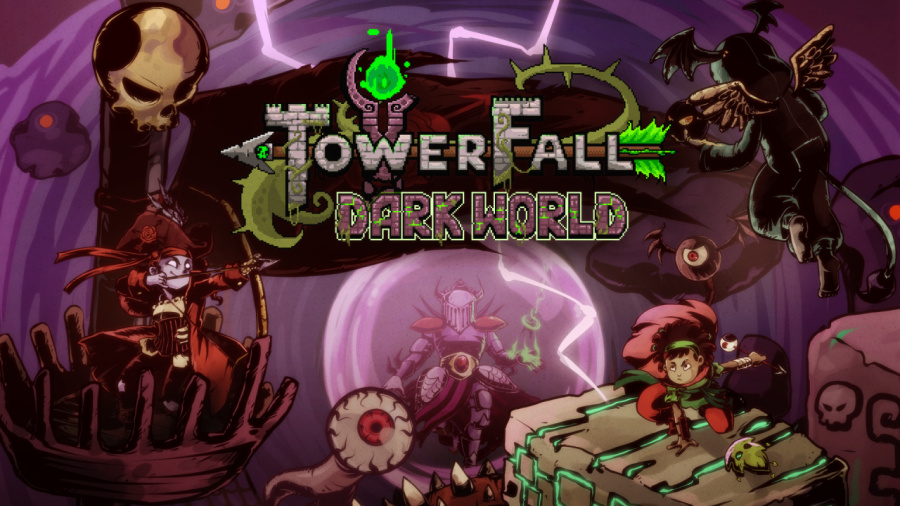 You may want to arrange a gathering with your nearest and dearest next week, as local multiplayer is very much back in vogue. Matt Thorson has announced that TowerFall's hotly anticipated Dark World expansion will be emerging from the gloom on the PlayStation 4 from 12th May, where it'll set you back $9.99.
"When we set out to create an update for TowerFall, we didn't expect to take it this far," Thorson wrote on the PlayStation Blog. "What started as a single new level set with a new archer ballooned into four level sets, ten archers, procedurally generated levels, a new co-­op mode, boss battles, new power-ups, and more."
You can see many of these additions in the trailer embedded below, including the titular Dark World co-op mode. "Here you can revive your fallen teammates as you fight through the many stages of each Dark World portal, and every set is capped off with a unique boss battle," he continued. "The joy of taking down these hideous boss monsters with your friends is a satisfying counterpoint to the manic competition of versus mode."
Elsewhere, Thorson reiterated that the PlayStation Vita version of the game is very much still in development, with more details set to be announced soon. In the meantime, will you be returning to the wonderful world of TowerFall next week? Hit us in the heart in the comments section below.
[source blog.us.playstation.com]