A Belly Dancing Hair-Whipping HD adventure from WayForward: makers of Ducktales Remastered, Adventure Time, & Contra 4!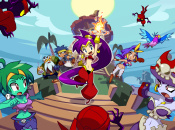 Hair we go
Shantae: Half-Genie Hero, the follow-up to WayForward's cult GameBoy Color platformer, is set to strut its stuff on the PlayStation 4, PlayStation 3, and Vita. Having already crossed its Kickstarter target with time to spare, the studio is now hoping to hit a couple of stretch goals. At the time of writing, the title needs to raise a...
Hold on there, you need to login to post a comment...