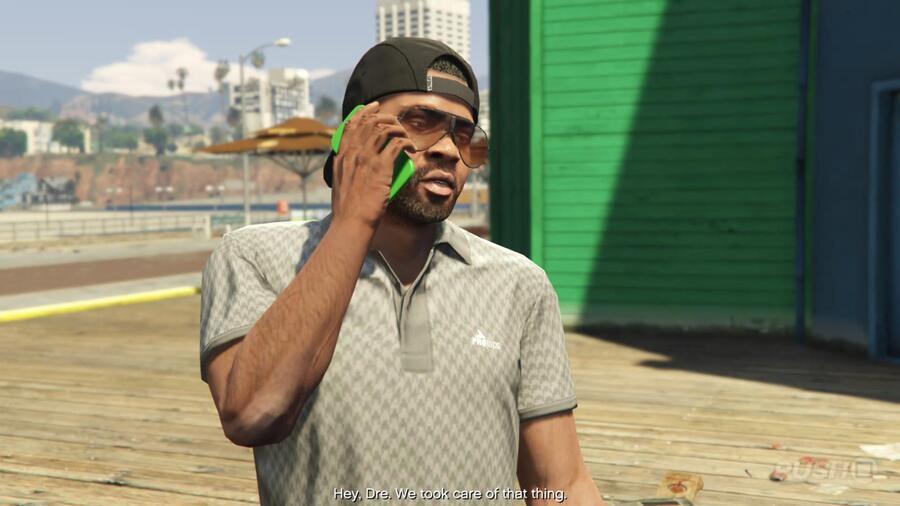 In its eighth year, and fast-approaching its third console generation, there are plenty who can't fathom the longevity of GTA Online. Even in an era of service-based games – like Minecraft, which actually pre-dates Rockstar's sequel by a couple of years – there's a sentiment among engaged gamers that the developer should just move the heck on. News that single player protagonist Franklin Clinton would be returning for an all-new expansion, then, went down about as well as a Sparrow targeted by an Oppressor Mk. II.
Still, even taking into account its inherent age, there's nothing quite like Los Santos as a sandbox on PlayStation today. This is a game where you can build your very own criminal empire, and The Contract brings with it an entirely new business to oversee. The Agency, spearheaded by Premium Deluxe Motorsport's one-time employee of the month and Chop the Dog, is billed as a kind of "celebrity solutions" firm – which, in essence, means you'll be conducting all kinds of shady activities in order to retain the image of Vinewood's elite.
With prices starting at little over GTA$2,000,000, this is an affordable business to get started with, and while the payouts largely pale in comparison to the likes of the Cayo Perico Heist, the content is generally quite good. This is largely due to Franklin and his long-time associate Lamar Davis playing a prominent role, leading to a handful of laugh-out-loud cut-scenes, including yet another "meme-worthy" roast. You can even play as the pair during some drug-addled side-missions, but we'll leave you to discover those for yourself.
As is traditionally the case, Rockstar's attention to detail is second-to-none. Take the trip to Franklin's house from the single player campaign, and you'll spot a certain ex-girlfriend's car parked in the driveway and a kid's slide in the backyard. This kind of world-building, the idea that you're part of a real evolving place, is a big part of what makes GTA Online so special – and, based on rumours, it's probably what we can expect from GTA 6, should it ever actually release. There are also call-backs to Trevor, Michael, and even OG Loc.
It's the core gameplay that continues to let the game down, then, and is probably the strongest argument for a refresh at this point. While most of The Agency can be played single player, the developer has completely given up on balancing: one contract, which sees you taking down some Vagos commanders, will see your body armour stripped and most of your health depleted the second you pop out from cover. Perhaps aware of the fact that some players have unstoppable arsenals these days, Rockstar's completely abandoned any sense of playtesting in favour of just bombarding you.
In that sense, GTA Online feels ancient – and it never offered a particularly refined experience, even at launch. And yet, returning to the FIB Building – with call-backs to the infamous mission from the main game – in order to trace Dr. Dre's phone, as you build your brand in celebrity problem solving, is such a unique and fun setup that you'll see it through. Later you get to visit the hip hop icon in his recording studio.
And there are even new assassination contracts which call-back to the original GTA games, as you pick up missions from payphones, as well as an entire radio segment on West Coast Classics paying tribute to the aforementioned beat doctor. The new Agency office, with its Armory, makes it a good starting point for newcomers – especially as it makes Mk. II weapons relatively accessible, and you get some good perks by having Franklin and his hacker friend Imani as contacts. You can even install a homing missile jammer onto your cars, preventing them from being targeted by griefers.
But this is perhaps the biggest evidence that GTA Online is in need of a reboot: Rockstar is now adding expensive modifications to undo the mess it's made by releasing vehicles like the Oppressor Mk. II in the first place. If you're coming back to Los Santos for the first time in years, then it is borderline impenetrable – and despite some quality of life changes, like a tweak to the frequency of messages from associates, this still feels like a creaking sandbox that's had content bolted on top of content on top of content. If it was a house, it'd fall down.
But still, there's nothing quite like it. The satisfaction of building and managing your own underground empire in a connected and constantly evolving world: only the likes of Fortnite come close to matching what Rockstar's doing here, and that's a different beast entirely. The Contract is worth it for the returning characters and the new plot beats, as well as some of the conveniences the Agency office itself provides, but at this point, actually playing the game is becoming an exercise in torture that even the likes of Trevor would approve of.
---
Did you test out GTA Online's new content yet? You can find out How to Start the Contract and the Best Agency to Buy as part of our GTA Online guide if not, or let us know your thoughts in the comments section below.