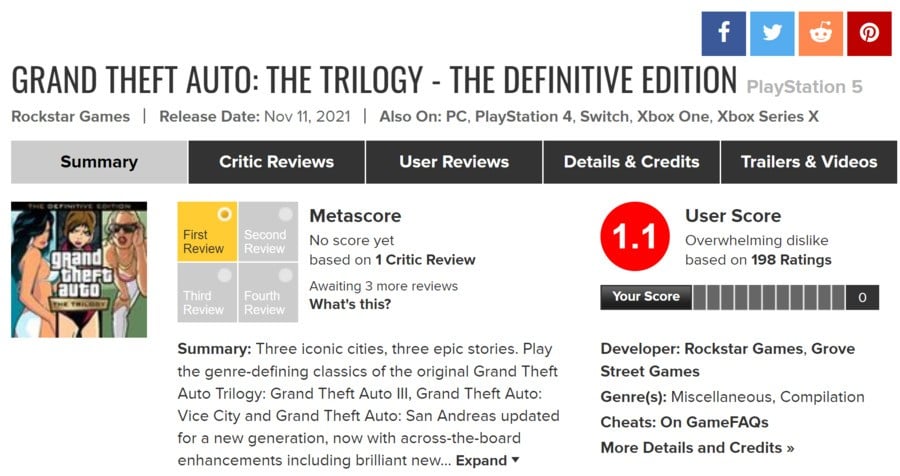 If you're wondering where the Push Square review of the GTA Trilogy is, we didn't receive the game until its official launch date at 3PM UK time on 11th November, so we're still busy working our way through what is an enormous package. Don't expect us to deliver our final verdict for at least another week or so, but you can read our GTA Trilogy Hands On in the meantime.
Unfortunately, many gamers have already seen enough, and the PlayStation 5 version currently commands a 1.1 rating on Metacritic. Of almost 100 reviews, just nine are positive, with a further 75 negative scores. "The original style and aesthetics are completely lost," one user said, with another adding: "This is next level pathetic how this company handles things, this is just unacceptable."
GTA Trilogy's issues have already been well-documented, from its odd artstyle through to its headache-inducing rain and performance problems. It's worth noting, though, that the release has gone even worse on PC, where the Rockstar Launcher has rendered the compilation completely unplayable these past few days. It's currently rated 0.8.
Metacritic user reviews aren't the be all and end all – many of you may recall The Last of Us: Part 2 receiving a similar reception for some of its creative choices – but clearly in this case franchise fans are dissatisfied with what Rockstar has delivered. The developer, Grove Street Games, has said that it's working on updates, so hopefully those deploy promptly and clean up this sorry situation.
[source metacritic.com]