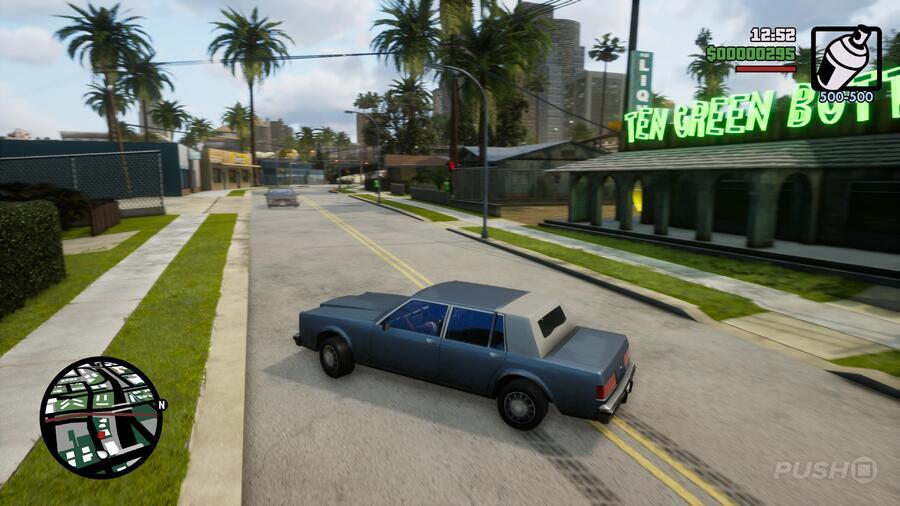 In response to the headline: honestly, no. As is so often the case when there's an online backlash, the reality isn't quite as bad as the memes would lead you to believe – but make no mistake, the GTA Trilogy deserves better, and Rockstar has its work cut out rectifying this sorry state of affairs. This is a developer that's renowned for its attention to detail, so how these classics launched with spelling errors is beyond us.
We've played all three titles in the compilation, although the bulk of our time has been spent with GTA San Andreas, which we're going to focus on for the purposes of this article. GTA 3 is the most inconsistent port of the three: it's choppy – even in Performance mode, running on a PlayStation 5 – and its sandbox feels the most dated by far. GTA Vice City is a lot steadier, although it's also susceptible to framerate dips on Sony's new-gen console.
GTA San Andreas is easily the smoothest of the trio, and it's also the best looking. This was an incredibly detailed game already on the PS2, so seeing the assets with such clarity is a treat. Despite the game originally launching in 2004, this classic rivals contemporary open worlds in terms of the density of its sandbox and sheer variety of things to see and do. Stealing a sound system by performing an impromptu breakdance is a real highlight in the early stages of the campaign.
The artstyle in this remaster is inconsistent and odd, though. The hazy, bloomy look of the original has been lost in favour of more generic visuals, and while it's glossy and sharp, it doesn't have quite the same 90s mystique as it did on the PS2. The character models, as has already been reported, also look a little bizarre in this high-resolution format; no one expected Grove Street Games to add performance capture and re-rig the release, but when it's bad it's real bad.
There are a number of quality of life improvements that modernise the release in meaningful ways, though. An early motorcycle chase with OG Loc was aggressively annoying on the PS2, but mid-mission checkpoints make it much more tolerable here on Sony's new system. While the gameplay remains largely unchanged – and thus shows its age – the new aiming and driving controls feel a lot tighter, although they're naturally not as nuanced as contemporary releases.
It's worth remembering that these are still the games you remember as well, meaning they're quick-witted and laugh out loud funny at times. Some of the gags have aged badly, but personally we'd have been disappointed if Rockstar tried to tamper with the original dialogue, so from that perspective we're glad they're presented intact. Many have tried to capture the spirit that makes Grand Theft Auto so iconic, but nothing comes close to the real thing.
All that said, Rockstar does have its work cut out here. While the bugs and glitches are nowhere near as frequent as the backlash may suggest, there's simply no excuse for these PS2 titles running at an inconsistent framerate on a PS5. We've crashed numerous times when driving around Los Santos as a direct consequence of the performance issues, and that's simply unacceptable. Seeing gags like 'Guitarwank' butchered by an AI upscaler is also sloppy beyond belief.
So, no, the GTA Trilogy isn't as bad as the social media furore may suggest – but it is slapdash at best, and these classics deserve better than that. Rockstar is getting heat because it removed the original PS2 versions from the PS Store and threatened legal action against modders in order to deliver this – a messy compilation with an inconsistent art style and choppy performance. The saving grace is that Grand Theft Auto is still Grand Theft Auto – and, frankly, there's nothing else quite like it.
---
Have you tried the GTA Trilogy yet? What are your early impressions on the compilation? Will you be waiting for patches and updates before picking this up? Plug your ears from one of OG Loc's gangster raps in the comments section below, and be sure to take a look at our GTA Trilogy guide.