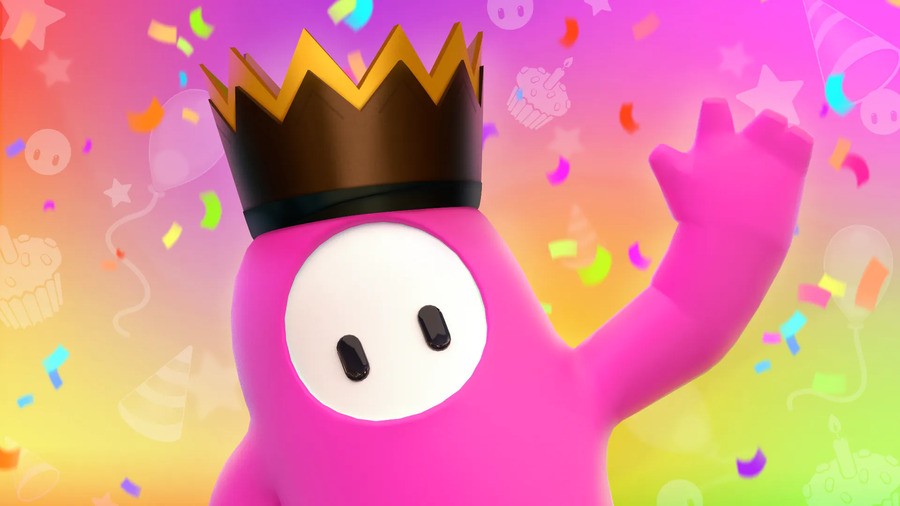 Yep, Fall Guys has now been around for one whole year. Launching on 4th August 2020 on PlayStation 4 as a PS Plus game, the 60-player, game show-style platformer exploded in popularity immediately, quickly becoming the most downloaded Plus game ever. Today mark's the game's first anniversary, and it's come a long way since launch, with loads of new levels, features, and outfits for those clumsy beans.
To celebrate the game's first birthday, developer Mediatonic has a couple of treats in store for players. Firstly, you can currently earn double Crowns in the game all day, which might come as welcome news to those who struggle to accumulate the headwear.
Next up, a new playlist called the Anniversary Party Show is live in the game. This show contains lots of launch levels, cutting out any post-launch additions as fans take a look back at how the game got started. Lastly, the in-game shop now contains two special cosmetic goodies — the Happy Birthday Pattern and Happy Birthday Crown can be yours for only 10 Kudos each.
Will you be celebrating Fall Guys' birthday today? How many wins have you had in the first year? Tell us in the comments section below.
[source twitter.com]