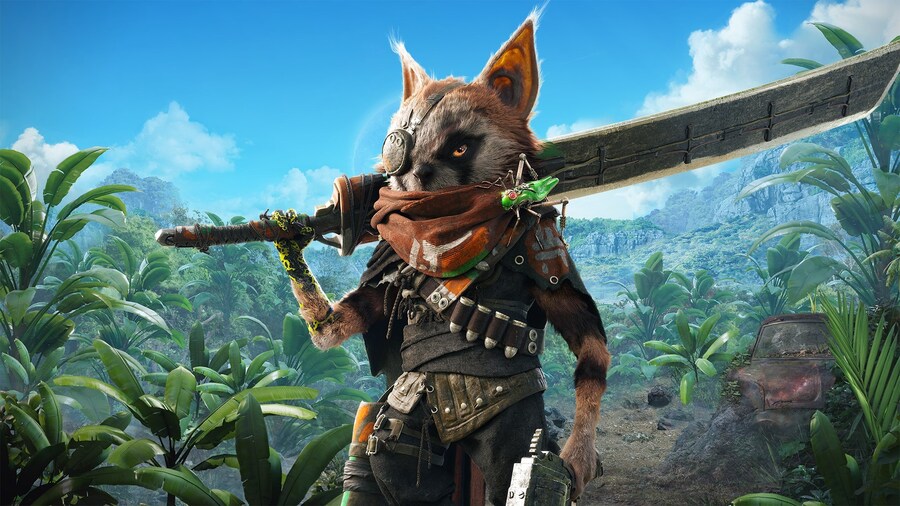 Putting out your first-ever game as a developer is always going to be a difficult task, but when the project generates as much excitement as Biomutant has in years past, that weight of expectation must take its toll sooner or later. Swedish studio X101 finds itself in that precarious position as we close in on the release of its seemingly epic open-world debut, except this time around, it certainly feels like our enthusiasm has gone to the right place. We were handed the chance to view 20 minutes of fresh Biomutant gameplay in the lead up to its PlayStation 4 launch on 25th May 2021, and it looks primed and ready to deliver on everything we hoped the game would be.
If we were to do the usual, reductive thing of likening Biomutant to another title on the market, then the Greek adventure Immortals Fenyx Rising from Ubisoft would be our answer. Don't let that comparison dissuade you, however. They may both use the open-world structure and trappings to tell their story, but Biomutant appears to go beyond the mechanics that have soured players in the past — this feels like much more than the "Ubisoft open-world formula". As such, those similarities are quite slim.
Biomutant's open world will be split into seven large environments, all of which you can reach and explore after creating a character. The problem is that four elements govern how long you'll be able to withstand their effects before dying. Heat, Cold, Biohazard, and Radioactivity resistances determine whether you'll thrive or perish in any particular region, which highlights just one way in which Biomutant goes above and beyond typical open-world titles. What is traditionally used to simply change the colours and surroundings of an area will actually have an impact on your decisions and where you go next in Biomutant.
That's where the comparisons essentially stop though because team X101 is on course to produce a fairly fresh take on open-world games. An impressively in-depth character creator allows you to shape the sort of furry but dangerous animal you want to be. Pick from six different breeds, with those options dictating your starting stats in vitality, strength, intellect, charisma, agility, and luck — this really is an RPG. These choices shape what you look like, and then you can begin to influence your resistance to the aforementioned elements. Then you're handed some loot to get started with and it's time to find your place in the world.
The character creator is just one example of how player choice is at the heart of Biomutant, with others sources from the narrative itself. Art and creative director Stefan Ljungqvist remained a bit vague during the online presentation, but the story will seemingly be influenced by your own decisions. In practical terms, this manifests itself with an Aura system in the game that Ljungqvist assures is more expansive and detailed than a Paragon and Renegade system you would see in other RPGs such as Mass Effect. We're excited to see just how different any two playthroughs could be.
On top of that, freedom and expression fuels the game's combat system. With damage numbers popping off all over the place and comic book-style text praising a successful combo on-screen, Biomutant is as cool to look at as it is likely to play. Guns and melee weapons form the centrepiece of engagements, which are first manufactured using an extensive crafting system. You'll be able to combine random objects found in the environment to create wild and wacky melee weapons while the developer tells us there are more than 200 million combinations of long-range guns alone. It seems pretty safe to say then that you'll spend a lot of time upgrading your items, working your way through the rarity system to ensure you have the best of the best equipped.
Biomutant is shaping up very nicely as we close in on its PS4 release date then, and we haven't even had chance to talk about its free-form traversal mechanics, vehicles, and the unique characters you'll meet as you explore the world. One example was Sol, a charismatic frog who stood on his hind legs. We need to play it for ourselves to confirm our hype, but it looks like developer X101 is onto a real winner here. Will it revolutionise the open-world genre? While the answer to that question is likely no, Biomutant is proving to be another rock-solid PS4 must-have. Keep your eye on this one.
---
Biomutant comes to PS4 on 25th May 2021, with PS5 owners able to play via backwards compatibility. Are you happy to hear the open-world experience is shaping up nicely? Are you too excited to play? Let us know in the comments below.