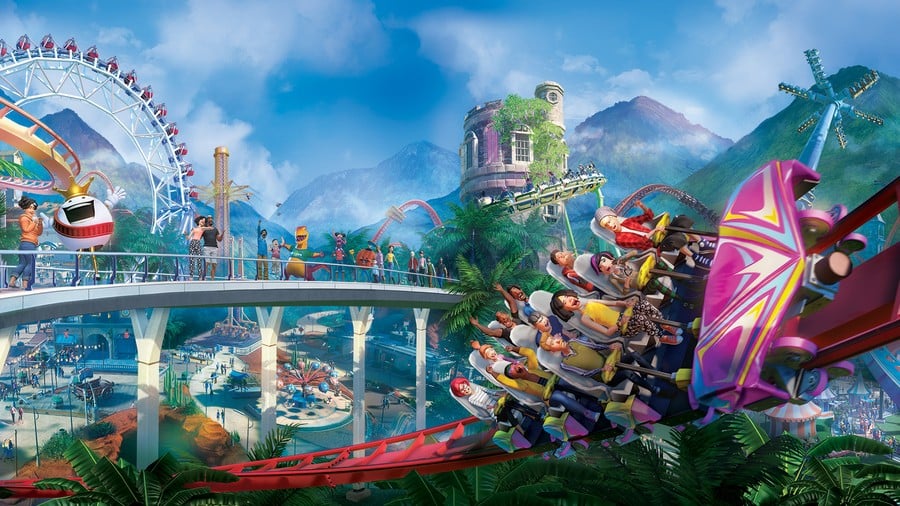 While it hasn't been confirmed for launch just yet, Planet Coaster: Console Edition is a PlayStation 5 game you can look forward to playing this year. The console release of this 2016 PC title has received a full overhaul to accommodate for the DualSense controller soon to sit in our very hands, meaning developer Frontier has put in a ton of work to make sure it functions correctly. To learn more about what the team has done to make Planet Coaster a more accessible and approachable experience, we caught up with game director Gary Richards and lead designer Andrew Fletcher.
Push Square: You have announced Planet Coaster: Console Edition for both PS5 and PS4. For those picking up the next-gen console, what sort of benefits will the PS5 version come with over PS4?
Gary Richards and Andrew Fletcher: We have optimised the game for console to ensure all players can experience the creative freedom, simulation depth and wonderful charm of Planet Coaster regardless of the console they are playing on. Those players who choose to upgrade to PlayStation 5 will benefit from the advanced capabilities of the next generation of consoles with higher graphical fidelity, faster load times and a native 4k experience, all from the comfort of their sofa. It's exciting to be supporting the next generation of consoles and we are continuing to explore their potential to bring the best coaster park experience ever seen on console.
Has building the game's complexity around the DualSense controller been a challenge? Come the final product, will it feel like a natural fit?
We're really proud of how natural it feels to play on console. We've redesigned the controls with the gamepad in mind and designed new conventions for how the player interacts with the game, this has made the controls feel really consistent across the board. For instance, when building coasters you have the ability to adjust track positioning with the left-stick, build and delete track pieces with the face buttons, and adjust track settings with the d-pad, all at the same time, and so everything you need to create is at your fingertips. We took this idea even further with features like the context-sensitive radial menu, which provides quick access to actions without having to move your focus away from what you're currently doing.
It's been nearly four years since Planet Coaster launched on PC, but the innovations seen in roller coaster design has progressed since then. Will Planet Coaster accommodate for that with new track pieces that take into account world firsts such as the first single rail coasters and hyper-hybrids in Steel Vengance?
Planet Coaster has grown and evolved since its original release, and we've continued to update the game with new rides, creative tools and management features. This includes partnering with some amazing coaster parks to bring the latest rides into the world of Planet Coaster, such as Cedar Point's Steel Vengeance and Copperhead Strike from Carowinds. We've also added a powerful display sequencer that expands the possibilities for creating spectacular dark rides, and even an interactive shooting ride that players can ride themselves and aim for a high score.
In Planet Coaster, every coaster and track ride is fully editable and allows players to create their own ride experiences from the ground up, so we really can't wait to see what our new console players bring to the table. And with the Frontier Workshop sharing platform that we've built specifically for Planet Coaster Console, everyone will be able to share their own creations with the world and download many more from our amazing community.
Will the guests at your park have to socially distance?
Fortunately, consoles tend not to suffer from viruses.
What are some of Frontier's favourite roller coasters? How many theme park trips were taken during the development of Planet Coaster?
Unsurprisingly we're huge fans of Coasters here at Frontier, so the team were able to pull from their personal experiences of their favourite parks and rides when developing Planet Coaster: Console Edition. This combined with the passion, knowledge and expertise gleaned from working on previous theme park games really helped us bring the game to life.
---
We would like to thank Gary Richards and Andrew Fletcher for taking the time to answer our questions and Kris Wall for making the interview possible. Planet Coaster: Console Edition comes to PS5 and PS4 at some point later this year? Will you be strapping yourself in for the ride of your life? Share your thoughts in the comments below.