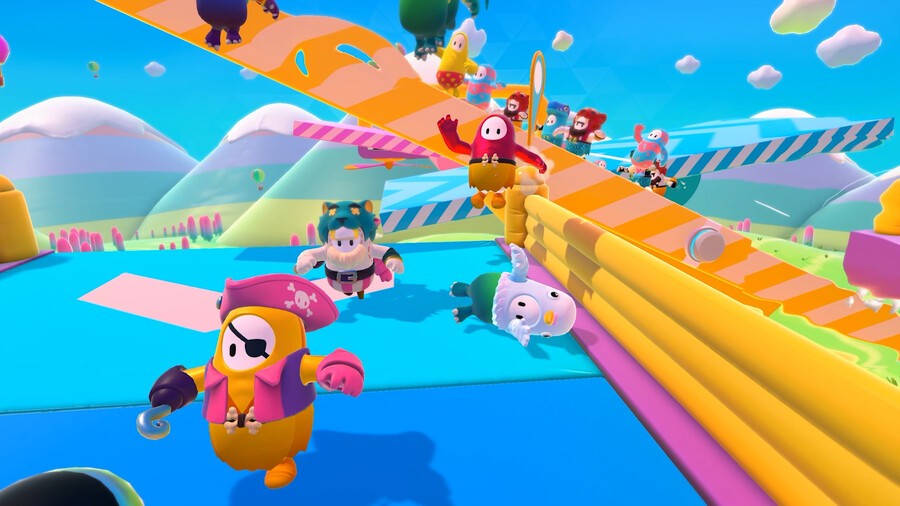 Fall Guys, the cutesy battle royale inspired by knockout game shows, is coming to PlayStation 4 on 4th August. This is obviously great news -- we've been extremely curious to play this madcap multiplayer title ever since it was announced last year. 60 players duke it out online in a series of different rounds, with each obstacle course or mini game eliminating a handful of contestants until just one winner remains. It's a great concept, and just looks like dumb fun.
Anyway, the official Twitter account for the game recently stated that PlayStation fans will be getting some "exciting news in the coming weeks", going on to describe it as "very spicy".
There are a couple of possibilities here. The first is that PS4 players who pre-order the game might get a platform-exclusive in-game outfit. We say this because those who pre-order on Steam are getting an exclusive (and adorable) Gordon Freeman costume. Maybe we'll be able to dress our fall guys up as Kratos, or something.
Another possibility is that Fall Guys will be launching as a PlayStation Plus game, à la Rocket League. The 4th August is the first Tuesday of next month, which is when new PS Plus titles become freely available to members. Given that this is when the game launches, its highly multiplayer-focused nature, and PlayStation's renewed interest in indie games, we think this makes a ton of sense.
We don't know for sure, though -- we'll have to wait and see what this spicy news turns out to be. The game arrives in a few weeks, so we won't be in the dark for long. Would you like to see Fall Guys launch as a PS Plus game to maximise the player base? What else could this news be? Discuss in the comments section below.
[source twitter.com]