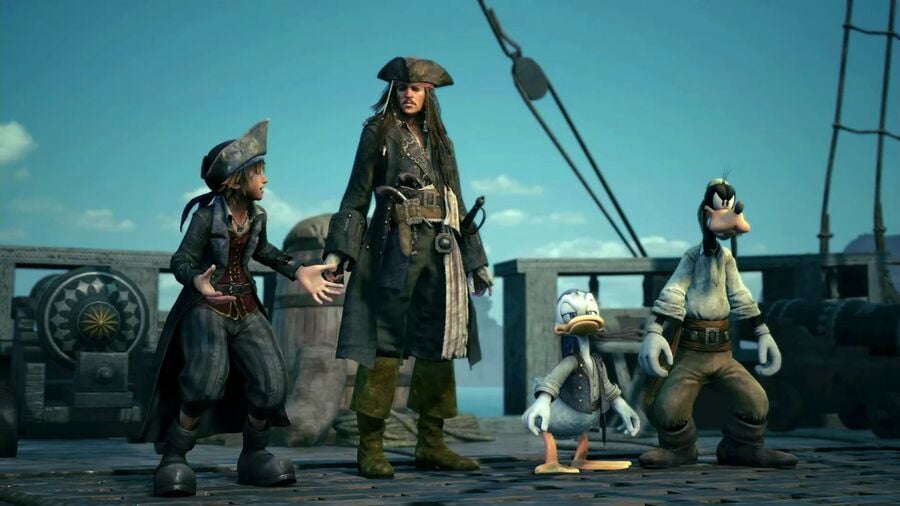 The Disney worlds you visit throughout your journey in Kingdom Hearts 3 will serve up some of the most memorable moments in the entire franchise, but which universes will you be exploring? Three worlds return from previous games, while the other five are brand new to the series. Here's all eight and what you can expect from them.
All Disney Worlds in Kingdom Hearts 3
Here's all eight Disney worlds in Kingdom Hearts 3.
Mount Olympus (Hercules)
Thebes is under attack from the Titans, and it's up to Sora and friends to assist Hercules in taking them down. You'll fight your way into the Realm of the Gods and take the giants down, while Maleficent searches for what she refers to as a 'Black Box'.
Toy Box (Toy Story)
The next world you'll venture to shrinks things down to a much smaller size as you explore Andy's room alongside Woody and Buzz Lightyear. You'll then make your way to Galaxy Toys in order to save Wrex and Hamm from the clutches of the Heartless, while also exploring a three storey toy shop that throws up all sorts of Easter eggs and jokes.
Kingdom of Corona (Tangled)
The Kingdom of Corona tells the story of Tangled in a basic sense, as you journey from Rapunzel's tower all the way to the kingdom itself in order to see the floating lights in person. It's a truly magical world that is sure to rank highly among fans thanks to some special moments that really hit home and wonderful special attacks that take advantage of Rapunzel's long and luscious locks. With a dancing minigame to boot, the Kingdom of Corona is sure to live long in the memory.
Monstropolis (Monsters, Inc.)
Mike and Sully are running the show when you reach Monstropolis, and the twosome take you on an adventure to find Boo's door as well as combat the Unversed that have decided to show up. Randall puts in an apperance to try and turn things sour, but he's no match for the might of Sora, Donald Duck, and Goofy.
Hundred Acre Wood (Winnie the Pooh)
The Hundred Acre Wood is an optional world that is very short in the grand scheme of things. You'll be transported there via a book handed to you by Merlin, and it helps to set up a little reunion with the likes of Winne the Pooh, Tigger, and Piglet. You'll take part in three minigames there, and then whisked back to the real world before you've had time to breathe. It's short, but it's most certainly charming and adorable.
Arendelle (Frozen)
Let it go, let it go! It's already in your head, isn't it? Sora's trip to the world of Arendelle places a heavy emphasis on combat throughout its three hour duration, but there's still more than enough room for some very special scenes. Yes, Elsa sings the song of course. Anna, Sven, Olaf, and Kristoff join the team too in a quest to save Elsa from the clutches of evil.
The Caribbean (Pirates of the Caribbean)
Sora gets to captain and even upgrade his very own ship in The Caribbean as captain Jack Sparrow takes the threesome of friends across the seas and into uncharted waters. Navigate around islands, take out pirates, and dock on land to uncover a bit of treasure here and there.
San Fransokyo (Big Hero 6)
An evil Baymax is threatening to ruin the city of San Fransokyo, and so it's up to Sora, Donald Duck, and Goofy to put a stop to it alongside Hiro Hamada's group of superheroes.