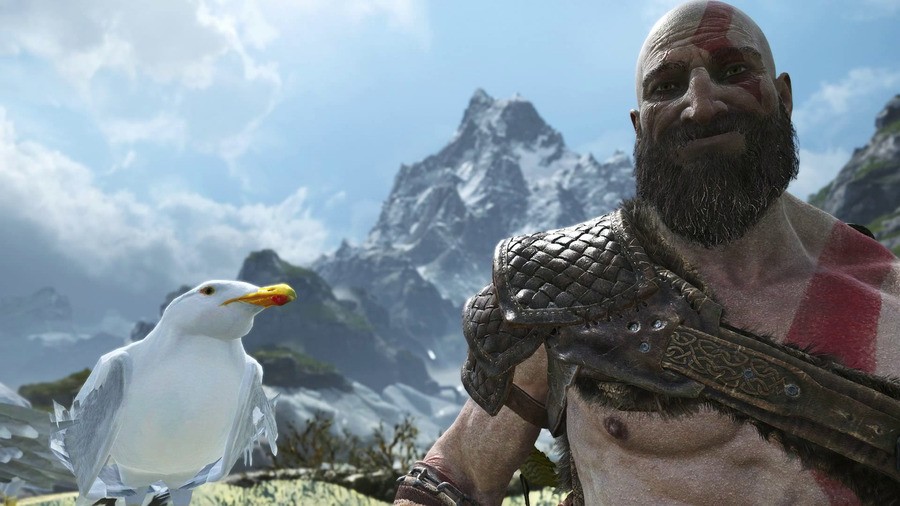 God of War helped propel the PlayStation 4 to a sensational April 2018 in the United States, where the system set a new software sales record for the month since data tracking started all the way back in 1995. The console – which was unsurprisingly the top-selling system of the month – also registered the highest April hardware units tally since the heydays of the Wii in 2009.
Kratos' revival was the month's best-selling game, but it also recorded the highest ever launch month sales for a PlayStation exclusive. But it was one-two punch for the Japanese giant this time, as MLB The Show 18 maintained its excellent performance from March 2018, becoming the year's second best-selling exclusive so far, behind only God of War.
PS4 Pro also got a boost on the back of Santa Monica's opus, with the limited edition God of War bundle securing the month's best-selling hardware SKU in terms of dollar sales. Meanwhile, the DualShock 4 was April's top-selling accessory, with the black model now officially the best-selling gamepad in US history in terms of dollar sales.
Frankly, this is an absolutely wild month for PlayStation, with some estimates suggesting the PS4 even outsold the Nintendo Switch and Xbox One combined – although NPD doesn't disclose numbers. Nevertheless, with industry spend up 18 per cent year-over-year, it's clear that the gaming sector is very healthy right now – and Sony is king of the castle for the time being. 
NPD Software Top 20: April 2018
God of War
Far Cry 5
MLB The Show 18
Nintendo Labo Variety Kit
Donkey Kong Country: Tropical Freeze*
Mario Kart 8*
Grand Theft Auto V
Call of Duty: WWII
Super Mario Odyssey*
NBA 2K18
PlayerUnknown's Battlegrounds**
Tom Clancy's Ghost Recon: Wildlands
The Legend of Zelda: Breath of the Wild*
Monster Hunter: World
Tom Clancy's Rainbow Six: Siege
A Way Out**
Yakuza 6: The Song of Life*
Sea of Thieves
Kirby Star Allies*
FIFA 18**
NPD PS4 Software Top 10: April 2018
God of War
Far Cry 5
MLB The Show 18
Yakuza 6: The Song of Life*
Grand Theft Auto V
Call of Duty: WWII
Monster Hunter: World
NBA 2K18
A Way Out
FIFA 18
NPD Best Selling Games of 2018 So Far
Far Cry 5
Monster Hunter: World
God of War
Call of Duty: WWII
Dragon Ball: FighterZ
Grand Theft Auto V
NBA 2K18
MLB The Show 18
PlayerUnknown's Battlegrounds**
Mario Kart 8*
* No digital sales included
** No PC digital sales included
[source venturebeat.com]