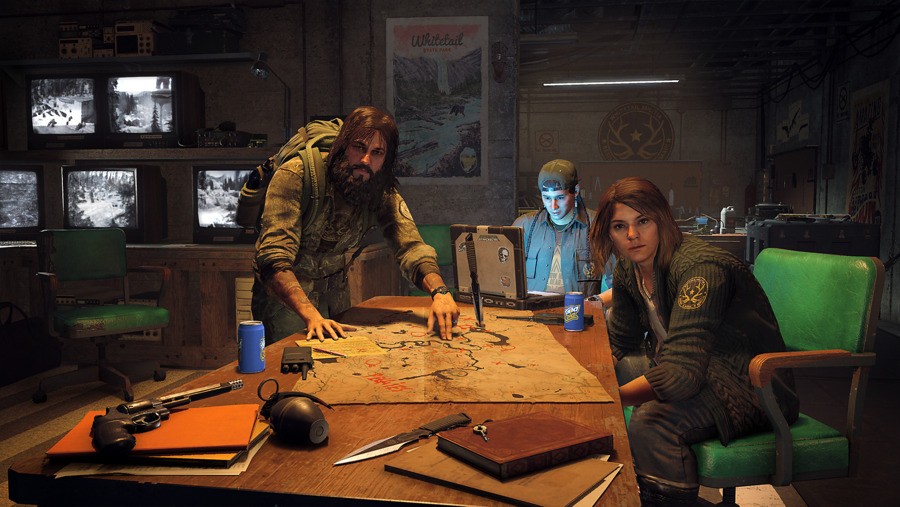 Complete the various challenges in Far Cry 5, and you'll earn perk points. As the name suggests, these allow you to unlock a variety of perks. These make your life a heck of a lot easier in a number of different areas.
Perks are well worth pursuing. A few of them are actually essential to complete a number of different missions, while others will make shooting, blowing stuff up, and crafting easier and faster.
Here's a list of all of the perks in Far Cry 5 for your perusal. We recommend bookmarking this so you can refer back to it as you play.
Survivalist Perks
Perk
Description
Cost
Human Fish
You can swim faster and hold your breath under water longer. Also works in Arcade.
1

Fisher King
Fish will tire more quickly. Also unlocks new types of flies in the Fishing Rod slot of the utility wheel, for catching heavier fish.
4
Repair Torch
The Repair Torch is added to your utility wheel. Use it to open safes or to repair vehicles.
5
King of the Jungle
Reduced animal attack damage. Predators (except Judges) prioritize nearby enemies over you. Prey animals flee less from you. Also works in Arcade.
6
Black Market
Craftable remote explosives, proximity explosives, molotovs, pipe bombs, sticky upgrades, and special ammo are now available to buy at all shops.
6
Harvest Master
Double your loot reward from plants and animals.
8
Health Boost 1
Your maximum health is increased to 150%.
6
Health Boost 2
Your maximum health is increased to 200%.
7
Health Boost 3
Your maximum health is increased to 250%.
8
Health Boost 4
Your maximum health is increased to 300%.
9
Renegade Perks
Perk
Description
Cost
Parachute
Unlocks the parachute. Deploy it by holding X while you are falling.
1
Wingsuit
Unlocks the wingsuit. Use it by pressing L3 and switch between parachute and wingsuit in mid-flight allowing you to cover more distance.
4
Airdrop
Unlocks the option to arrive by air drop when you fast travel to a location.
10
Vehicle Buster
Bullets will do more damage to vehicles. Works best with armor piercing ammo. So let 'em have it! Also works in Arcade.
7
Weapons Pro
Reload, aim and switch SMGs and Shotguns faster. Sway and bullet spread are reduced. Also works in Arcade.
6
Heavy Weapons Mastery
Reload, aim and switch LMGs, launchers and the flamethrower faster. Sway and bullet spread are reduced. Also works in Arcade.
6
Auto Repair
All vehicles you drive will automatically repair themselves. Also works in Arcade.
6
Rifle Mastery
Reload, aim, and switch rifles and sniper rifles faster. Sway and bullet spread are reduced. Also works in Arcade.
7

Saboteur
Approach a vehicle's hood and hold square to set it on fire and make it explode 10 seconds later. Also works in Arcade.
7
Booby Trap
Approach a vehicle's hood and hold triangle to make it explode on the next collision. Also works in Arcade.
9
Assassin Perks
Perk
Description
Cost
Grapple
Unlocks the grapple tool. Find grapple spots in the world and use R2 and L2 to climb up and down quickly.
1
Nimble Fingers
It is now quicker to craft items, sabotage or booby trap vehicles, disable alrms, and open safes. Also works in Arcade.
4
Sneaky Sprint
Move much faster while still staying crouched. Also works in Arcade.
4
Master Blaster
The amount of components needed to craft remote and proximity explosives is reduced by 50%.
5
Takedown Mastery
Unlocks chain, melee throw & sidearm takedowns. Takedown range increased.
6
Primal Mastery
You can reload, aim, and switch bows and slingshots faster. Also works in Arcade.
6

Close Combat Mastery
Melee weapons are more sturdy. Reload, aim, and switch handguns and melee weapons faster. Sway and bullet spread are reduced. Also works in Arcade.
6
Locksmith
Stealthily lockpick safes and doors that do not require a key card with square.
6
Throwback
Throw back incoming projectiles like grenades or dynamite when you see R1. Also works in Arcade.
7
Ghost
You make less noise when walking, sprinting, and landing. Fall damage is also reduced. Also works in Arcade.
7
Prepper Perks
Perk
Description
Cost
Close Combat Gear Bag
Carry more handgun ammo and melee weapons. Also works in Arcade.
1

Journey Pack
Carry more items in your inventory, including up to 5 medkits. Also works in Arcade.
7
Tactical Ammo Bag
Carry more SMG and shotgun ammo. Also works in Arcade.
8
Quiver
Carry more normal, incendiary, and explosive arrows. Also works in Arcade.
8
Rifle Ammo Bag
Carry more rifle and .50cal ammo. Also works in Arcade.
9
Throwables Bag
Carry more explosives, throwing knives, and bait. Also works in Arcade.
9
Special Ammo Bag
Carry more ammo piercing, incendiary ammo and special rocket launcher ammo. Also works in Arcade.
9
Heavy Ammo Bag
Carry more LMG, flamethrower, rocket launcher and grenade launcher ammo. Also works in Arcade.
9
Additional Holster
Carry a 3rd weapon of any type in your weapon wheel.
8
Weapons Collector
Carry a 4th weapon of any type in your weapon wheel.
9
Leader Perks
| Perk | Description | Cost |
| --- | --- | --- |
| Boomer | Boomer returns faster after being injured. | 4 |
| Sharky | Sharky returns faster after being injured. | 4 |
| Peaches | Peaches returns faster after being injured. | 4 |
| Jess | Jess returns faster after being injured. | 4 |
| Grace | Grace returns faster after being injured. | 4 |
| Hurk | Hurk returns faster after being injured. | 4 |
| Nick Rye | Nick Rye returns faster after being injured. | 4 |
| Adelaide | Adelaide returns faster after being injured. | 4 |
| Cheeseburger | Cheeseburger returns faster after being injured. | 4 |
| Leadership | Unlock an additional slot in your squad to let you play with two Guns For Hire in single player. | 6 |