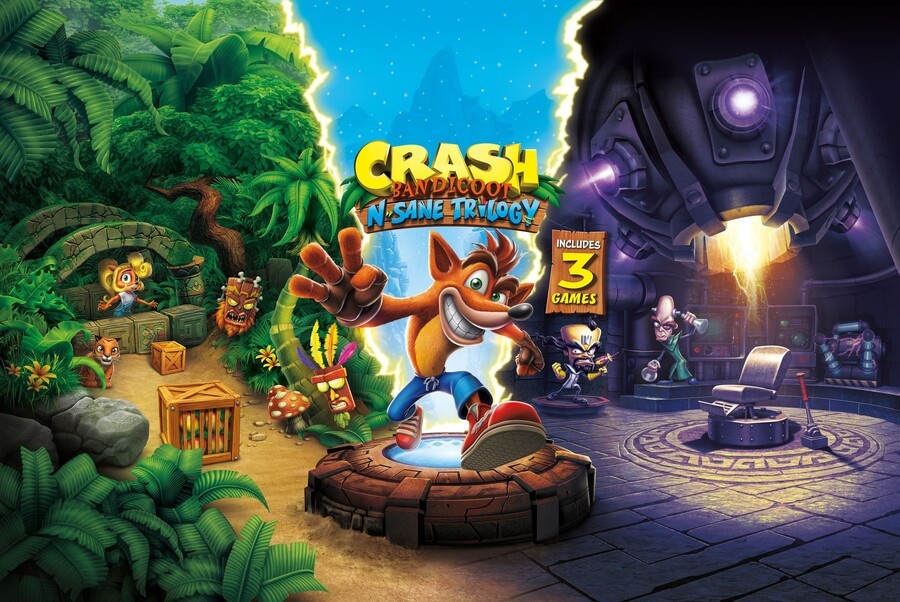 After literally years of Crash Bandicoot begging on this site and countless others, the 'coot with 'tude is finally making his long-awaited comeback. N. Sane Trilogy compiles all three original PSone titles, but while much of the design has been retained, it introduces all-new assets and some quality of life improvements to boot. We're still waiting on the furry favourite to rock up at Push Square Towers (what's new?), but here's what other critics are saying about the game. 
IGN - 8.5/10
But it also results in the incredible visual and aural overhaul and the gameplay tweaks to earlier entries, like time trials and crate counters, that Naughty Dog added later in the series. Those additions make the overall package so much more cohesive while never forgetting what made, and what still makes, so much of Naughty Dog's original trilogy a blast to play.
The Crash Bandicoot N. Sane Trilogy serves as a time capsule of sorts before the series was ran into the ground.
For all three games, the feeling of repetition never sinks in, a factor that goes a long way in making this trilogy a blast to play. It's good to have Crash back in the limelight. I hope this isn't the last we see of him.
When it takes sheer willpower to survive the original's first island when you've played the game for years, you know something has gone wrong somewhere. Those coming in fresh to the franchise aren't going to know whats hit them. Sure, it's big, beautiful and positively packed with charm but it's time to prepare to die. I love the N.Sane Trilogy in its new roguelite form but some things will definitely frustrate those new to the franchise looking to find out what all the fuss is about. 
It's easy to imagine how a dyed-in-the-wool Crash fan will fall in love all over again via the N. Sane Trilogy, but if you're experiencing Crash for the first time--or the first time in a while--it might pain you to realize that Crash's original adventures aren't as inventive or surprising as they were 20 years ago.
---
Will you be snatching Crash Bandicoot N. Sane Trilogy for your PS4 this week? Spin around in circles in the comments section below.