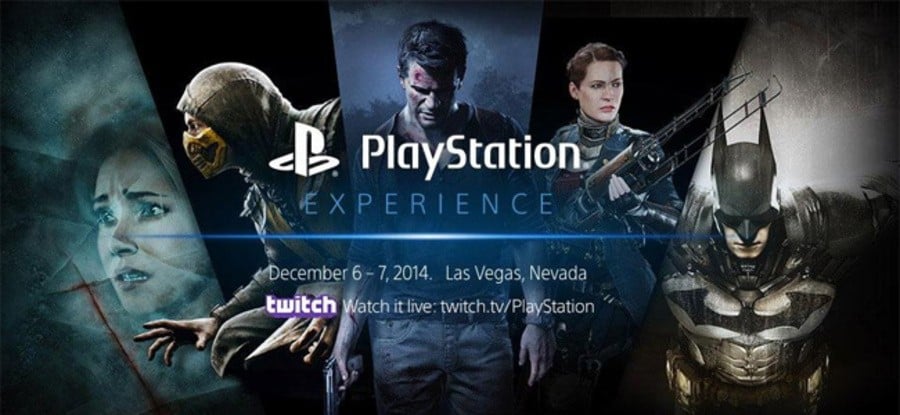 Sony's always been a fan of announcing a new title or two in December, but PlayStation Experience appears to have taken this particular penchant to a whole new level. The platform holder initially hinted that its Las Vegas get together would include a few fresh reveals, and we instantly attempted to temper expectations, warning that we'd be surprised if anything substantial was announced. Depending on your tastes, there's a chance that you'll agree that that was actually the case – but this showing still had more content than we were originally anticipating.
This was a full two hour marathon of new and old titles, with the Japanese giant once again flaunting the sheer depth of variety its forthcoming portfolio. The pacing issues of old seem to have fallen to the wayside in recent times, as the company trotted out one title after another, rarely pausing to talk sales figures or flaunt corporate terminology. There were a few abrasive personalities thrown into the mix – a particularly enthusiastic Rocksteady employee perhaps took things a little too far, while David Jaffe's customary cursing seemed out of place – but nothing too horrific.
And the show started in style, with a gameplay demonstration of Uncharted 4: A Thief's End. With many expecting little more than a short cinematic trailer, the 15 minute gameplay demonstration was a bit of a surprise – and so was the quality of the actual content. Visually, the pre-alpha footage didn't blow us away quite to the degree that we were expecting, but those desperate to see the series evolve will have been impressed by what was shown. Extraordinary level design teamed with a range of new abilities gave the demo a frenetic pace, which was only obstructed by a crash.
Unfortunately, the nuanced nature of Nathan Drake's outing reflected poorly on The Order: 1886, which seemed static and cumbersome by comparison. Ready at Dawn's historical escapade is actually light years ahead of Naughty Dog's latest in the pure presentation stakes right now, but the gunplay seems as archaic as its setting, with tight corridors paving the way for a rather mundane kitchen shootout during the demo on display. There's still hope that the forthcoming exclusive will deliver something a little more, but at this point, it's looking like we've seen the sum of the title's tricks.
Those eager for a reason to detract from the PlayStation 4's ongoing success – it's now the fastest selling system of all time, according to SCEA gaffer Shawn Layden – will probably point to the aforementioned stumble as a reason to undermine the system as a whole, but other elements of the press conference proved just why the platform's going from strength-to-strength. Out there indie titles such as The Forest, Gang Beasts, and Day of the Tentacle emphasised the breadth of the device's lineup – even though not everything will appeal to everyone.
And it's this third-party outreach helmed by Adam Boyes that is arguably the manufacturer's strongest asset while its first-party teams continue to quietly bide their time. The impact of the Street Fighter V unveiling was heavily impeded by yesterday's leak, but is a major coup for the manufacturer – especially as it seems that it's helping to develop the release. Meanwhile, the confirmation of Yakuza 5 for the PlayStation 3 may have seemed small fry on the surface, but proved that the firm is willing to invest in the games that people ask for, which bodes well for the future.
It's also clearly not afraid to back something a little different: Katamari Damacy creator Keita Takahashi proved as much, as he waltzed out on Sony's stage with a fork in hand to reveal a game involving a cube in different hats. These types of titles are perhaps frustrating those that feel Sony is neglecting their AAA needs, but with confirmation that a new God of War is in production immediately following the conference, it seems that the manufacturer is holding these blockbuster exclusives back until it has something more substantial to show.
Speaking of which, PlayStation Vita owners could feel a little more satisfied that their format is getting some love – even if the support mostly revolves around ports. The likes of Shovel Knight, Grim Fandango, and Geometry Wars 3: Dimensions all make sense on the miniature machine, though – in fact, they're the types of titles that this editor prefers to play on the diminutive device. If nothing else, it was nice to see the handheld trotted out on stage after several years of neglect during the company's various E3 and Gamescom keynotes.
It wasn't perfect: David Jaffe's third-person shooter – despite having a unique sense of style – seemed like an anticlimactic closer, just as Twisted Metal's reboot did several years ago. There was also perhaps a little too much of a reliance on ports of titles from PC and other platforms, which are welcome as library builders, but aren't ever likely to convince people to buy a brand new machine. However, this was also Sony's sixth major press conference of the year, and it still found a way to trot out 38 different games. Credit where credit's due: that's pretty impressive.
---
What did you think of the PlayStation Experience keynote? Are you still miffed at the silence from Sony's first-party teams? Did the likes of Street Fighter V whet your whistle? Let us know in the comments section below.