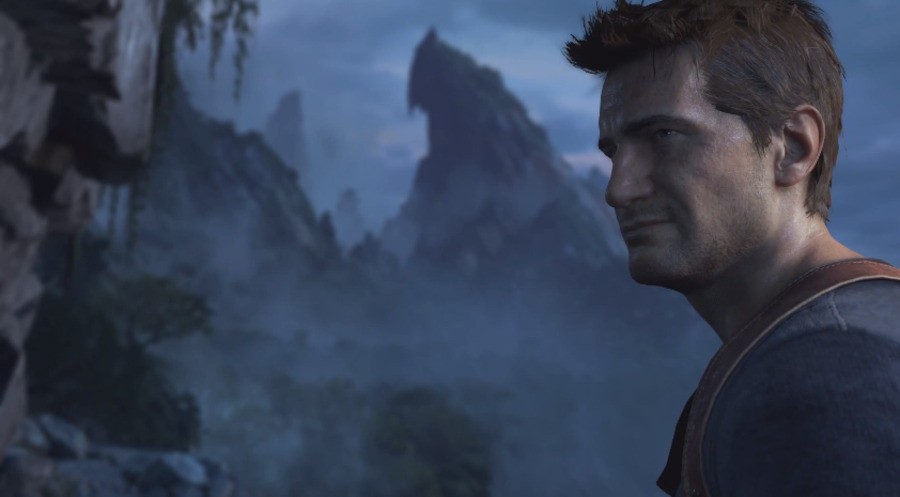 With PlayStation Experience, we had no doubt that Uncharted 4: A Thief's End would be making a grand appearance, but Naughty Dog went far beyond this and came running right out of the gate with a full 15-minute gameplay demo showing an incredible amount of what players can expect from Drake's next treasure-hunting escapade.
The first half of the demo highlighted the recognizable parkour of the Uncharted series, and there are many subtle improvements to the animations and flow of how Drake climbs and interacts with the environment around him. Drake also finds a new way to scale walls with a knife, similar to how Lara Croft uses her ice pick to climb certain walls in Tomb Raider.
In some situations, Drake can pull off a classic Indiana Jones-like stunt of swinging across gaps by utilising a rope, which will also play a major part during combat. We also get several breathtaking vistas of the gloomy, tropical island that's been seen in past teasers and images, showing off what the PS4 is truly capable of in terms of environmental scope and detail. At one point, Drake also stumbles upon a collectable that can be interacted with in real-time as he turns and observes it in his hand.
As for the other half of the demo, it's easy to tell that Naughty Dog has made some significant improvements and tweaks to how skirmishes can be approached. Rather than full-on combat sections, stealth is an integral part of how you take down enemies, which you'll be utilising far more often.
The level design on display has much more verticality and openness than past titles, so the way in which you can approach these levels is virtually endless. This was evident in how the game crashed briefly during the presentation, and the person playing it live took a more sneaky approach the second time around. Gun handling appears more realistic, too, and the demo ends with a brief look at a character who might just be Nathan's older brother.
What do you think of the jaw-dropping gameplay of Uncharted 4? Is it everything you could have imagined, or did you expect more of something else? Set your eyes upon the trailer below and plunder the comments section to let us know.