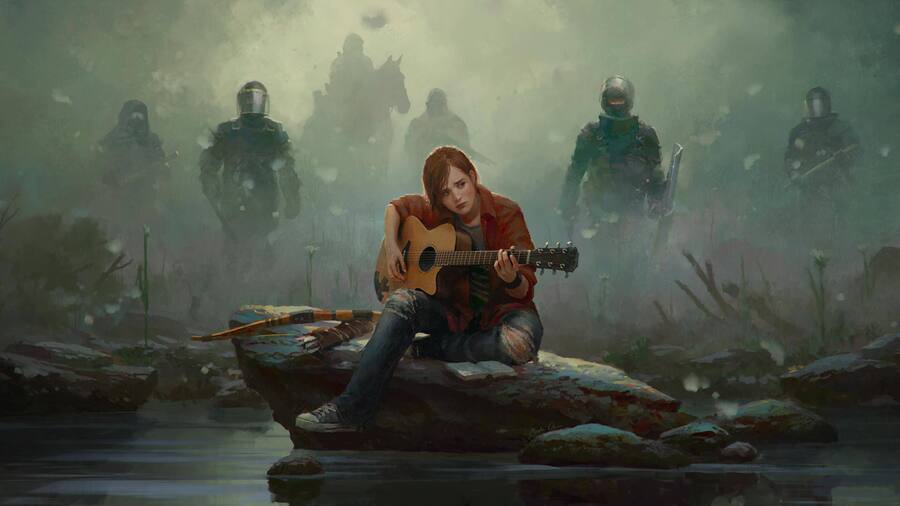 The Last of Us concept artist Marek Okon caused a minor online furore over the weekend when he teased an image of an older Ellie, leading many to believe that a sequel could be on the cards. The skilled sketcher later clarified that he'd picked up his paintbrush for personal reasons, and he's since revealed his full vision of the future in Naughty Dog's post-apocalyptic world, which he stresses has absolutely nothing to do with any other projects that may be underway.
"There's got to be some sort of medical condition for when you paint fan arts of the projects that you actually worked on," the amused artist remarked. "Well, I guess it's not as much a fan art as a homage to one of the best games that I've ever played. I tried to imagine what the future holds for Ellie and Joel, and came up with this image; Ellie a few years older, practicing her tunes." We're guessing that she's hammering out While My Guitar Gently Weeps, right?
Seeing as the productive painter has worked on the property in the past, this definitely looks like an official piece, so it's hard to think of it as mere fan art. Still, it begs the question: how would you feel about a sequel in which you take control of an eighteen-year-old Ellie? It seems like probably the most predictable path that developer Naughty Dog could take, which is why we don't think that it'll ever happen. Would you be up for it if it did, though? Strum a G major in the comments section below.
[source facebook.com]