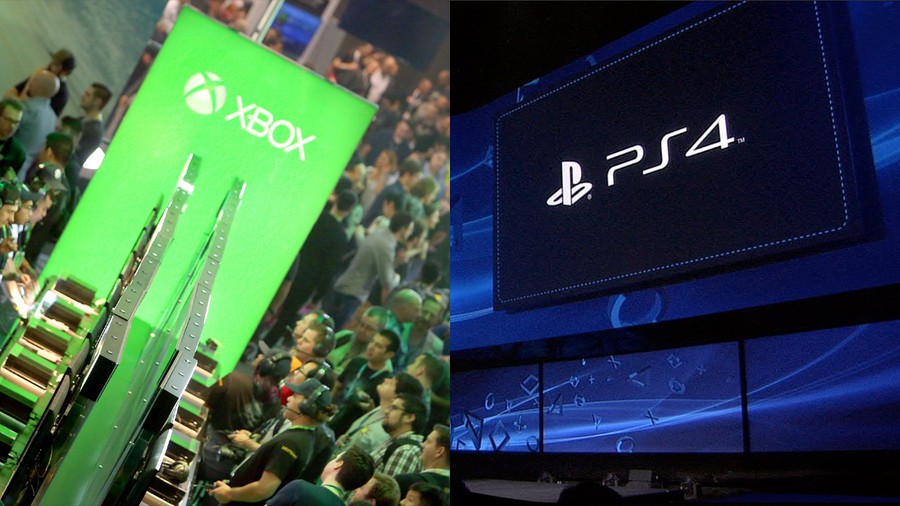 Console clashes don't get much more competitive than the upcoming conflict between the PlayStation 4 and the Xbox One. Not since the days of derogatory SEGA commercials has a system showdown promised so much drama. But with two formats vying for your finances this fall, which device is the best choice for you?
The following text compares some of the headline differences between Sony's system and Microsoft's machine, and discusses the implications of those discrepancies. At the end of the day, though, it will all depend on your own personal tastes, gaming habits, and functionality requirements as to which platform fully supports your needs.
Specifications
While there are many differences between the PS4 and the Xbox One, the systems are actually relatively similar under the hood. Both units utilise 8-core x86 processors, which are supplied by AMD. However, while the CPUs are similar, Sony's system has a slight advantage in GPU, boasting a semi-custom Radeon chip that runs at 1.8 teraflops. The Japanese giant's console also has an advantage in memory, as it's using 8GB GDDR5 RAM compared to the Xbox One's 8GB DDR3. The faster format used in the PS4 – in addition to the advantages in technical grunt – are likely to give the machine the advantage when it comes to multiplatform games, though Microsoft does have 32MB of ESRAM in its box to help to allay any discrepancies. Both systems reserve a portion of RAM for operating system functions (believed to be 3GB on the Xbox One, and a comparable number on the PS4) but these figures are likely to reduce as the consoles mature.
The important thing to takeaway is that both consoles are in the same ballpark and utilise more simplistic architectures than previous machines. While the PlayStation 3 was notoriously difficult for developers to get to grips with, such issues are unlikely to haunt either the PS4 or the Xbox One. However, the slight advantages in graphics processing and RAM may result in better optimised titles on Sony's system. And when it comes to first-party games, it's possible that PlayStation developers such as Naughty Dog and Sony Santa Monica will have more technical grunt available than Xbox studios like Turn 10 and 343 Industries. Microsoft has talked about how cloud processing will enhance the experience on its next generation machine, but this will require an Internet connection and its benefits are refuted by some sources. Sony has also stressed that its console can use the same technology if necessary.
Hardware
Ultimately, personal taste will dictate your preferences regarding hardware design. Both machines boast black exteriors, and a split finish. Sony's system has a slightly more stylised look, employing a parallelogram mould. It also has some additional flourishes, such as a blue strip and an indentation running around the entire spine of the console. The PS4 can be either stood up or laid down, though you will need to purchase a stand to do the former. Due to its bulkier size, the Xbox One cannot be placed in a vertical position. It's also worth noting that Microsoft's machine employs an external power brick, while the PS4 boasts all of its energy related components inside. It's a minor difference, but you're going to need to find somewhere to stash that additional box if you plump up for the Redmond-based manufacturer's machine.
In terms of features, though, the systems are largely similar. Both boast a 6x Blu-ray drive capable of playing high-capacity games and movies. Each system also ships with a 500GB hard drive as standard, though the PS4's can be upgraded to whatever capacity you like. You can attach an external hard drive to the Xbox One should you need more space. Much like the PS3, Sony's machine also includes Bluetooth support where Microsoft's option does not, but the next Xbox has three USB ports compared to the PS4's two. There's an A/V In port on the Redmond-based firm's system, which will allow you to use the console as an alternative overlay for television, allowing you to snap in different windows such as Skype and Internet Explorer while you watch your favourite shows. This is all functionality that will be absent from Sony's box.
Features and Policies
While the big talking point coming out of E3 was the Xbox One's used game restrictions, the narrative has changed somewhat since. Microsoft reversed its policies to be more in line with Sony's, meaning that both consoles will support used, rented, or borrowed games. The systems will also be region-free, and will feature instant restart and play as you download options. The latter is designed to increase convenience, allowing you to play your games while they're being pulled off the server. You'll also be able to share gameplay footage on both consoles, though the PS4 will be constantly recording 15 minutes of action compared to the Xbox One's considerably less five. Streaming will be handled by Twitch on Microsoft's machine, whereby Sony has partnered with similar (but slightly less popular) service Ustream.
Various titles will support Smart Glass functionality on the Xbox One, which will give you additional information about your games. There will be a PlayStation App for the PS4 which will allow you to track your friends, Trophies, and more on the move, but you'll also be able to play your entire library (minus games that make use of the PlayStation Eye camera) on the PlayStation Vita. The Japanese giant is demanding that third-party developers use the Remote Play feature, so as long as you have a Wi-Fi connection, you'll be able to play the vast majority of your games on the handheld. In addition, both consoles will support self-publishing for independent studios, though this will not be available at launch on the Xbox One. Microsoft has also promised that budding programmers will be able to use the retail console as a development kit, but at the time of writing its plans are vague. Studios will need the appropriate hardware to work on the PS4, but Sony is reportedly loaning these out for free.
Controllers
Of the two controllers, Sony's has seen the biggest changes over its predecessor. The DualShock 4 has been tweaked to provide added comfort, and now includes enhanced triggers and concave sticks. The input device has improved rumble and much more accurate motion sensors (similar to those found in the PlayStation Move wand), as well as a light bar on the top for identification and motion tracking (though you'll need the PlayStation Eye to employ that feature). Sony's peripheral also includes a touchpad in the centre of the unit which can be clicked, augmenting an additional input option for developers, and a speaker for sound effects. Meanwhile, the Xbox One controller has rumble triggers and an enhanced d-pad, but its tweaks are few and far between. You'll need batteries or a play and charge kit to power up Microsoft's option, while that functionality is included as standard on the PS4.
Perhaps the biggest difference between the two consoles is that the Xbox One comes with the enhanced version of the Kinect camera. This includes improved motion and voice detection, allowing you to zip around the console literally without lifting a finger. A slightly less advanced camera will be available for the PS4, but you'll need to purchase this separately for around £45/$59. While games such as Kinect Sports Rivals will be compatible with the Microsoft device, Sony has been less forthcoming with its motion controlled experiences. A demo called the Playroom will be bundled with the PS4, demonstrating the platform's augmented reality capabilities. Titles such as DriveClub will also use the peripheral to snap photos, which will then be used as your avatar online.
Online Subscriptions
Unlike the PS3, you will need a PlayStation Plus membership to play online on the PS4. This will cost you approximately £39/$49 for a year. As with the Xbox 360, you will need an Xbox Live subscription to play online on the Xbox One. This is slightly more expensive at £39/$59 for a year, but there are frequently discounts available. A current PlayStation Plus membership secures you free games for the PS3, Vita, and PS4, though you lose access to the content as soon as your subscription lapses. Microsoft, meanwhile, is currently giving away two games per month on Xbox Live, but it's not clear whether this will continue on the Xbox One. The platform holder has said that it will consider furthering the policy, but has not provided any guarantees.
The biggest difference between the two membership models is that Sony has resisted the temptation to lock various services behind a paywall. You'll be able to engage in party chat, watch Netflix, and enjoy free-to-play games without purchasing a PlayStation Plus subscription on the PS4, where Microsoft has been less forthcoming in this area, indicating that it will maintain the same policies as on the Xbox 360. As for additional online services, Sony has indicated that it will launch a Gaikai streaming solution in 2014, though the logistics of this and what it will offer remain vague. The company hopes to provide complete backward compatibility of its entire library in the future, but it's unclear how viable this goal will be in the short-term.
Price and Other Differences
At the time of writing, you'll be able to purchase a PS4 for £349/$399 while the Xbox One will cost you £429/$499. As mentioned previously, Microsoft's console will come with the Kinect camera included, but even with the price of the PlayStation Eye added, you'll still be able to purchase Sony's system for less. Availability and launch dates are still undecided, but the Redmond-based console is supposedly set to deploy in November while there are rumblings that the PS4 could launch a little earlier. Dates for both systems are likely to be announced at GamesCom in August.
It's perhaps worth adding that the PS4 comes with a mono headset for in-game communication, while the Xbox One doesn't. Microsoft says that you'll be able to use the Kinect as a headset should you require it. You'll also be able to pair previous generation USB-based peripherals to the PS4, as well as Pulse headsets. Any other major differences pertain to the software lineup, which spans Killzone: Shadow Fall, Knack, and DriveClub on Sony's machine. The big launch titles for Microsoft's console include Dead Rising 3, Forza Motorsport 5, Ryse: Son of Rome, and Killer Instinct. Both systems will host a slew of multiplatform games, such as Watch Dogs, Battlefield 4, and Call of Duty: Ghosts.
---
Which console will you be purchasing at launch? Which of the aforementioned differences mean the most you? Let us know in the comments section below.
Will you be buying a PS4 or an Xbox One? (95 votes)
Please login to vote in this poll.