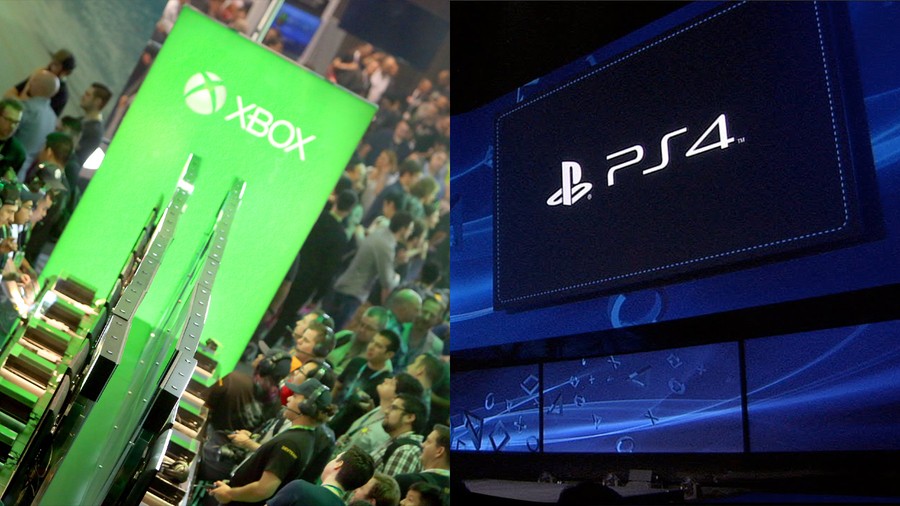 It was imperative that the Xbox One had a strong showing at E3 2013. Last month, the backlash to the platform's initial unveiling was undeniably negative, with a whopping 84 per cent of you noting that the system had done nothing to quell your anticipation for the PlayStation 4. But today's press conference was a lot stronger, and Microsoft definitely delivered on its promise of big exclusive games. But has the showing lessened your interest in Sony's next generation console, or are you just as hyped as ever?
Content aside, the one thing that the Redmond-based manufacturer did incredibly well today is pace its press conference properly. It's a point that we've emphasised in the run up to this week's big event in Los Angeles, and we hope that the PlayStation maker was taking notes. Aside from a couple of audio hiccups – which the developers at DICE dealt with incredibly well – the company cut chatter to an absolute minimum, and let the games do the talking for them. After years of pleading, we sincerely hope that Sony follows suit when it hits the stage later tonight.
On the subject of content, Microsoft kicked off with Metal Gear Solid 5: The Phantom Pain, which looked absolutely spectacular. The actual emphasis on third-party titles was quite small, with Battlefield 4 and The Witcher 3: Wild Hunt being the most noteworthy. It's clear that the company's beefed up its first-party output, though it's still partnering with second-parties rather than cultivating its own studios. Insomniac Games' surprise appearance served up an open-world shooter in a whimsical universe, while Capcom Vancouver announced a darker take on Dead Rising that's, well, not being published by Capcom.
The wealth of content was good, though, and while there were very few gigantic surprises, the Xbox One is clearly developing a decent roster of games. Forza 5 will be a key launch title for the platform, and while Ryse looks rather mundane from a gameplay perspective, it at least has the graphical pizzazz that's needed from a launch title. The promise of a new Halo in approximately 18 months was also important, while Quantum Break continues to look interesting, even though we're not entirely sure what the new title from Remedy is all about.
Microsoft also showed off some interesting features for the hardware itself, most notably a partnership with Twitch for game streaming and live video uploads. This is obviously fascinating from a PlayStation perspective, because it mimics what's possible on the PS4. That the Redmond-based firm's managed to swipe away one of the console's biggest selling points may come as a blow to Sony – especially seeing as the company has made a big deal out of the DualShock 4's all-important 'Share' input.
While the PS4 is packing some pretty impressive hardware, it seems feasible that Sony can undercut the Xbox One's price, which may be imperative moving forward
Having said that, despite a compelling offering of content, the DRM issues are still lingering over the Xbox One, and the company did nothing to address those during its press conference. Furthermore, while the addition of a couple of new giveaways to the Xbox Live Gold subscription will prove a nice extra for existing members, the company's paid tier still pales in comparison to PlayStation Plus.
And then we come to the price: $499.99. We were expecting the system to retail for a robust sum, but that seems like an especially huge figure – particularly when you consider that the console's £429.99 price tag in the UK is actually more than the PlayStation 3's infamous £424.99 sticker at launch. While the PS4 is packing some pretty impressive hardware, it seems feasible that Sony can undercut that price, which may be imperative moving forward.
But the big question is: how has your excitement for the PS4 fluctuated now that you've seen Microsoft's full hand? Are you still disappointed with the Xbox One, or has it started to twist your arm a little bit? And, finally, what does Sony need to do to better the Redmond-based manufacturer's press conference? Let us know your thoughts in the comments section below.
Has Microsoft's press conference affected your anticipation for the PS4? (50 votes)
Honestly, I'm now reconsidering my pre-order for Sony's system
8%
A bit, I'm waiting for the PlayStation briefing before I make up my mind
4%
It hasn't, nothing that Microsoft showed tempted me in the slightest
88%
Please login to vote in this poll.