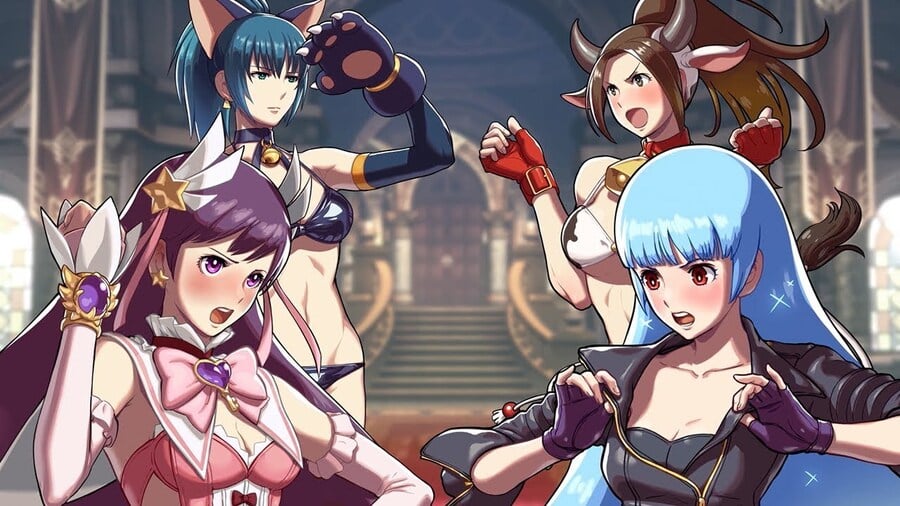 SNK Heroines Tag Team Frenzy was announced back in January, and it immediately attracted some attention for its, er, unique approach to being a fighting game. Featuring female combatants from across the SNK universe, we wanted to find out a little more about this upcoming brawler, so we exchanged some quickfire questions with the team behind it.
Push Square: To start with, can you give us a brief overview of what SNK Heroines is?
Yasuyuki Oda, Producer: It's a new kind of tag team fighting game in which the heroines of SNK are gathered in a mysterious mansion. What happened to the girls after the King of Fighters Tournament!? Please, play the game to find out!
What made you want to revisit the idea of an all-female fighting game?
Before we even realised it, the popularity of female SNK characters was growing even outside of Japan, so we wanted to create a new game based on that.
How do you decide on which characters to include?
The story is set in the days after the events of The King of Fighters XIV, so we based out character selection off this story.
The PS4 is home to a lot of great fighting games at this point -- what do you think will make SNK Heroines stand out?
Many kinds of fighting games have become popular at fighting game tournaments, from classics like Street Fighter and 3D kinds like Tekken, to more action games like Smash Brothers and ARMS. I believe SNK Heroines can find its place as a variation of a fighting game. It's a game overflowing with delightful characters, so I believe that will make fans very happy.
How crazy can you get when it comes to customising your favourite characters?
Kaito Soranaka, Director: Because you can adjust the position of accessories and grow and shrink them in size, I think you can get pretty crazy with them if you want.
Are there any DLC plans in place?
Yasuyuki Oda, Producer: Yes, we are currently planning many things.
Does SNK Heroines appeal to more casual players?
It's designed so that even casual gamers can join in.
Describe SNK Heroines in one word.
Cute♪
---
And just like that, our quickfire questions are over. Is SNK Heroines on your radar? Let's not get lewd in the comments section below.
[ Special thanks to the NIS America PR team, Yasuyuki Oda, and Kaito Soranaka for making this interview possible ]