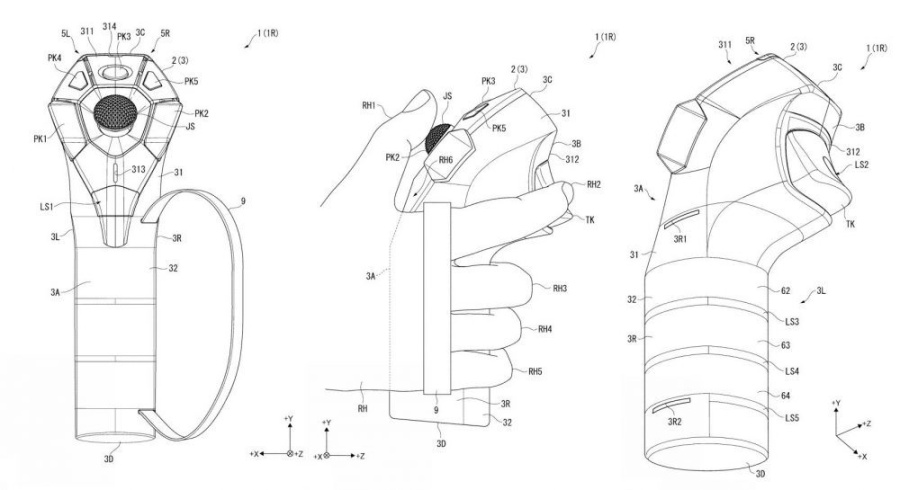 PlayStation VR is an amazing piece of technology, but as time goes on, the PlayStation Move is starting to reveal itself as something of a weak link. Sony was right to recycle the PlayStation 3 motion wand and it's more than adequate for the job, but compared to the superior Oculus Touch controllers it's not quite up to scratch.
Fortunately, a couple of new patents hint at technology the Japanese giant may be looking to manufacture in the future. While we wouldn't expect this peripheral to arrive until the PlayStation 5, they tease new motion controllers with analogue sticks and finger tracking technology. Potentially very exciting stuff, eh?
The first patent filed earlier this month by SIE Japan reveals a motion controller with an analogue stick surrounded by face buttons. It has a familiar looking wrist strap, and a trigger on the rear. Meanwhile, the second patent from 2017 talks about finger tracking – which would be unbelievable in enhancing the immersion of PSVR.
But there's more: the patent also discusses the possibility of the head-mounted display – in other words, the virtual reality headset itself – being able to track the position of the controllers. This would help in situations where the PS Move controllers lose tracking because the PlayStation Camera can't see them due to your body position.
To be honest it all sounds like a huge upgrade on the current setup, and we wouldn't be surprised if this is a product that's actively being prototyped behind closed doors. Assuming that Sony will continue pushing virtual reality with the PS5 – and there's very little reason to suggest it won't – then it's going to need a new set of motion controllers.
These sound like just the ticket to us.
[via ipforce.jp, ipforce.jp, vrfocus.com]