(PSP / PlayStation Portable)
Description will appear here shortly...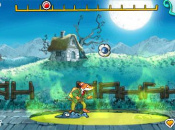 Licensed fun
Believe it or not, the PSP continues to sell reasonably well in pockets of Europe. Games such as Invizimals have given the handheld a new lease of life amongst younger users, and Sony's hoping to capitalise on that with the announcement of a duo of new children's focused games. First up is Phineas and Ferb: Across the Second...
Hold on there, you need to login to post a comment...