The merc with a mouth comes to PS3!
Review
PAL Version
Posted by Greg Giddens
Chimichangas!
Juvenile quips, over-the-top gore, fourth wall breaking referential humour, and excursions into insanity all paint the picture of the perfect Deadpool game, and in some ways this is it. You'll laugh wholeheartedly at the jokes and ridiculous scenes, but...
Activision resurrects antihero later this year
Transformers: Fall of Cybertron developer High Moon Studios' next project Deadpool will target store shelves on 25th June in North America, publisher Activision has announced. The title may be flying under the radar swifter than a superhero wearing a suit, but the game promises a blend of mass murder...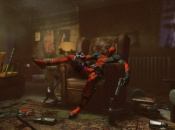 Bringing the big guns
Current Deadpool comic book author Daniel Way has been confirmed as the writer behind High Moon Studios' upcoming video game tie-in. Details surrounding the Activision published title are still being kept under wraps, but community manager Dan Amrich reckons fans should dive into Way's current comic book run in order to...
Hold on there, you need to login to post a comment...