Description will appear here shortly...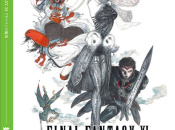 Scribble time
It looks like an infant armed with a tub of crayons designed the cover for Final Fantasy XI: Seekers of Adoulin. The title – which could well be the last PlayStation 2 game ever released – is due out on 27th March in Japan. It's the fifth expansion for Square Enix's popular online adventure, and marks the MMO's tenth...
Hold on there, you need to login to post a comment...