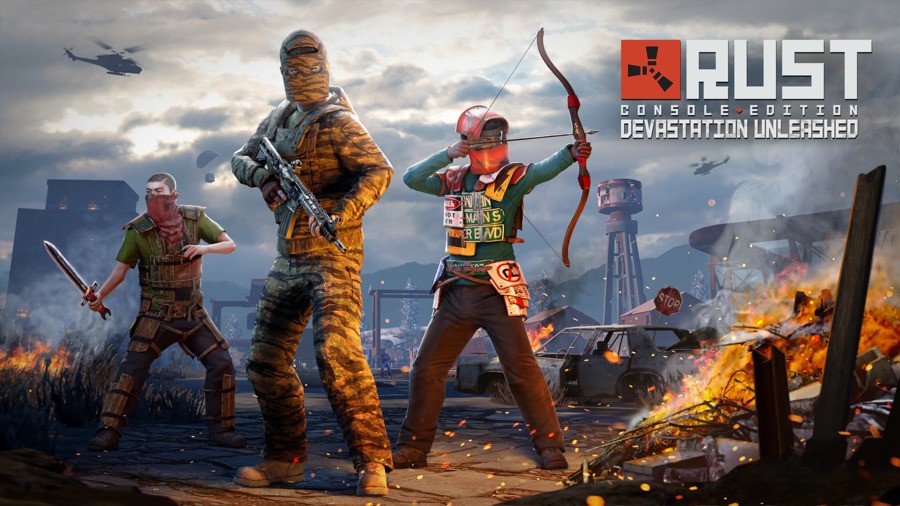 Rust Console Edition, one of the Best PS4 Survival Games, has expanded with its Devastation Unleashed update. Available now on the PlayStation 4, this revision adds some key features to the core experience, including Tech Trees and larger maps of up to three kilometres in size. This should give you a bit more space to settle down.
The new Tech Trees provide a little more control over the items that suit your playstyle. "No longer will players have to rely on spending their scrap on a random tiered blueprint at the workbench, players can now unlock the items they need the most," a blog post explains. "Collect scrap from around the map and construct a workbench in order to access the Tier 1 Tech Tree."
There are also fresh building blocks, including spiral staircases and triangular roofs. You'll be able to gesture to other players using a radial system as well, while the larger three kilometre maps should help you to find more space to settle down. Obviously the Rust Console Edition experience is already pretty unforgiving, so any additional opportunities to find sanctuary should be welcomed.
Double Eleven has also taken this opportunity to roll out a wealth of balance updates and bug fixes, and you can browse the full patch notes through here. We still wish this looked and ran a little better, particularly on the PS5, but it seems like these are tidy improvements to an extremely popular game. Will you be digging out your sleeping bag and setting up camp now this update is out?
[source rust.double11.com, via rust.double11.com]