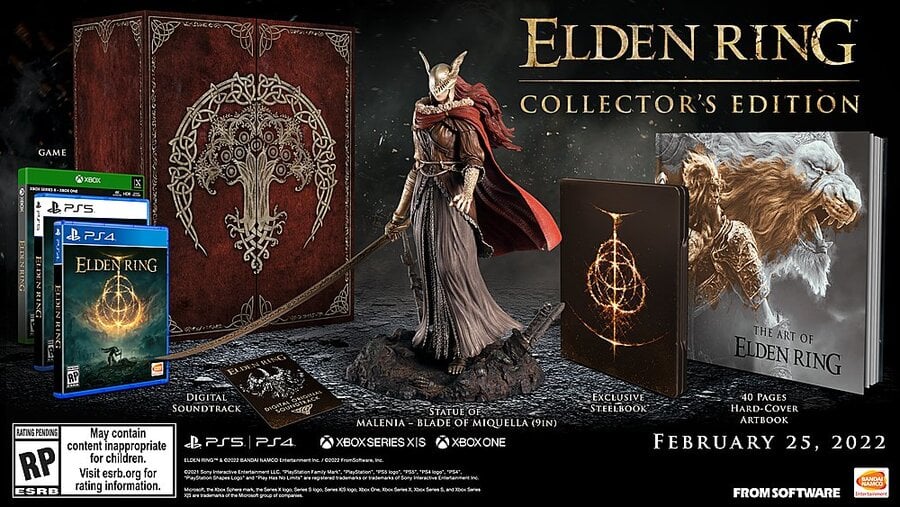 Update: The Elden Ring Collector's Edition you see above has now been confirmed to be real, but there's actually an even bigger and better version of it available. The Premium Collector's Edition contains everything in the standard Collector's Edition and bundles it with an official helmet replica of what Malenia — Blade of Miquella is wearing. It's said to be a 1:1 scale, so you could wear it out and about if you really wanted to.
Here's what the Premium Collector's Edition looks like:
---

Original article: Today's the day for official Elden Ring gameplay, but it looks like FromSoftware has some further reveals to share around the exciting showcase. Case in point is a physical Collector's Edition, which has leaked via Twitch adverts — then documented on Reddit — just before the show starts. It contains a copy of the game (always important), a nine-inch statue of Malenia — Blade of Miquella, a digital soundtrack, steelbook, and a 40-page artbook. We expect prices will be shared either during today's presentation or straight after the fact, but it's likely to be an expensive cop.
It's also worth noting the Collector's Edition doesn't come with any sort of season pass. Dark Souls games have traditionally been treated to multiple DLC packs after launch, but Sekiro: Shadows Die Twice bucked that trend. Who knows what post-launch support will look like for Elden Ring.
In just under one hour from the posting of this article, FromSoftware will share 15 minutes of gameplay for the first time. Be sure to check back with us here on the site for full coverage of that. Don't forget the full game is now releasing for PlayStation 5 and PS4 on 25th February 2022. Are you interested in this Elden Ring Collector's Edition? Start saving in the comments below.
[source reddit.com]