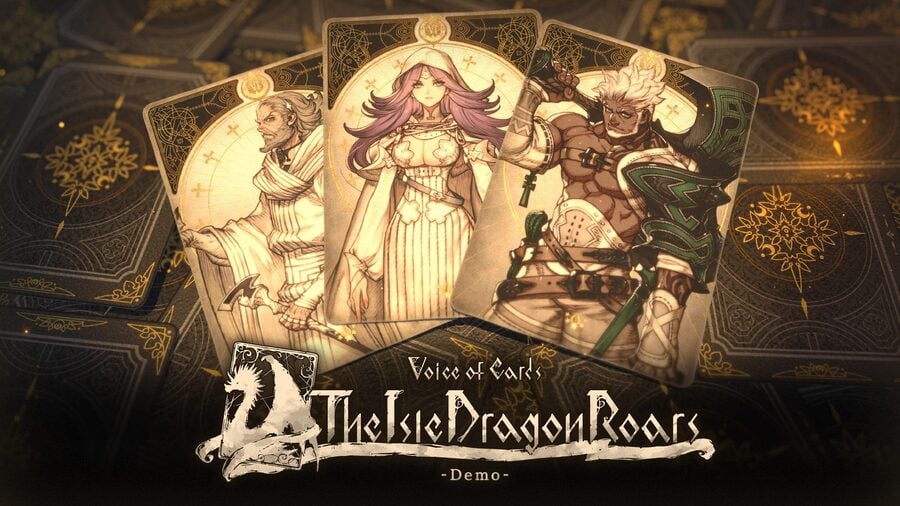 The awkwardly titled Voice of Cards: The Isle Dragon Roars was revealed during the latest Nintendo Direct, and if you're anything like us, you quickly realised that it was some kind of card game (it's in the name!) and then stopped paying attention. Look, we want our role-playing games to whisk us away to gorgeous fantasy realms where we can enjoy a tangible sense of time and place. You can't get that same experience from a game made entirely out of virtual cards... Can you?
Voice of Cards is an incredibly hard sell. How do you make a game like this look appealing and exciting in a two-minute trailer? Sure, the artwork is exquisite, and the music gives an air of intrigue, but it's just cards, innit. Well, as it turns out, there is a way to sell this thing — and it's with a playable demo.
Purely out of curiosity (and after the trailer had dropped the name of Yoko Taro), we plodded over to the PlayStation Store and grabbed the Voice of Cards demo — and boy are we glad that we did. To be clear, this demo probably won't blow you away — but it does paint a picture of immense potential. Voice of Cards could end up being a cracking RPG.
Yes, the whole adventure does take place on a virtual table top. A fantasy world is portrayed through cards that flip and reveal themselves as you move your party — represented by a small board game piece. Most cards are environmental, but in towns you'll find chatty citizens and shops where you can stock up on equipment and healing items.
Voice of Cards is essentially an old school Japanese RPG — it's not a game where you collect cards and build a deck or anything like that — but it also has the liveliness of a classic table top game. Random events (alongside random battles) pop up as you make your way across the cards. There are times when you'll have to roll a dice in order to determine the outcome of an encounter, and these quirks add some spice to the experience — even in its demo form.
Meanwhile, the turn based combat is snappy and engaging. Although the monsters that you fight in the demo don't provide much of a challenge, there's clear scope for some intensely strategic battles. Your own party members learn new abilities as they level up, but some attacks and magic spells require gems to use — gems being a resource that replenishes each turn, so correctly managing your stock is going to be important.
Enemies have elemental weaknesses too, so there's need for a bit of experimentation should you want to maximise your offensive output. There's already a lot to like about the system — including the dice rolls that dictate additional damage — and if the full game properly builds upon what's here, then fans of traditional turn based combat are in for a treat.
We're not quite sold on the story yet, but that's largely because we don't really know much about it. The demo offers up a quest in which your party tracks down a royal treasure for the queen, stolen by some monster. Not the most interesting or original premise, but there are signs of entertaining interactions between party members, and as alluded, the gameplay itself was more than enough to string us along. Oh, and the whole thing's narrated by one man, which certainly gives the storytelling a unique edge.
The demo for Voice of Cards has opened our eyes to what could be a special RPG — assuming that the full game fills out into the potential that's here. If you're a fan of traditional RPGs, table top RPGs, or both, then we would fully recommend downloading the demo (it's only 700MB!) and giving it a shot. Hopefully, like us, you're very pleasantly surprised.
---
Have you tried the Voice of Cards demo? Pull out your deck in the comments section below.