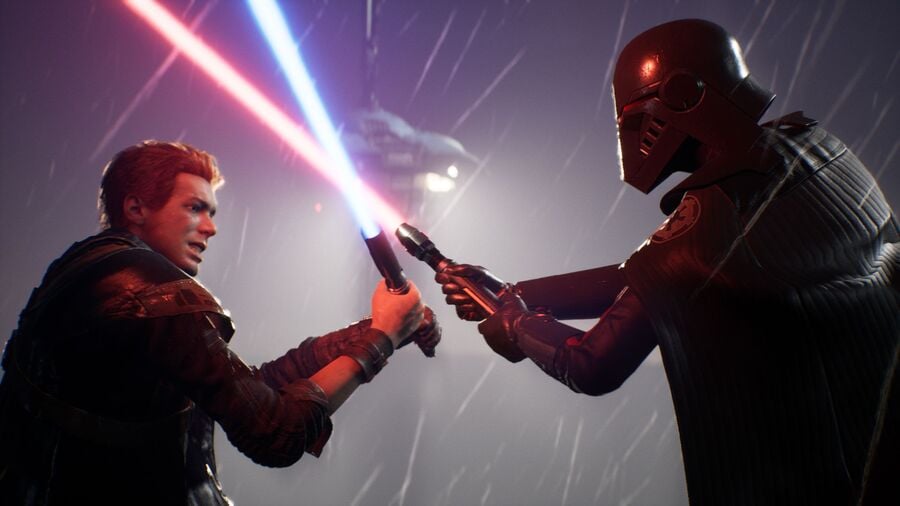 Since the PlayStation 5 launched last November, free PS4 to PS5 upgrades have been fairly common as developers re-release their titles with enhancements for the new generation. The only problem has been if you own a physical copy of a PS4 game, you would have to also buy the PS5 system with a disc drive in order to qualify for the free upgrade — that is until now. Star Wars Jedi: Fallen Order is the first game we're aware of that allows you to upgrade from the physical PS4 edition to a digital version on PS5, meaning you can still freely qualify for the current-gen adventure even if you have a discless system.
There is a process attached to this free upgrade, but it seems worth it if you want to save some cash. You essentially need to validate your purchase of Star Wars Jedi: Fallen Order with EA and then it will send you a digital code to redeem on PS5. To get things started, you must head on over to the EA Help website and select PS5 as your platform of choice. Then pick the first option labelled "Codes and promotions", and then "Replace disc with code". You'll then be prompted to fill out a form with a proof of purchase attached to it — we assume a screenshot of either a physical receipt or online order confirmation will suffice.
The form states an EA advisor will address your query within 72 hours, so while you may have to wait a few days for the code to come through, it's better than double-dipping. So, despite EA dropping this PS5 version without any fanfare whatsoever, it actually seems to have done a really good job of making it a smooth process. Not only can physical PS4 owners grab a free digital copy on PS5, but the port has also circumvented the awkward save transfer process. You can simply download your PS4 save from PS Plus cloud storage or a USB stick and the PS5 version will recognise it straight away. Why can't all PS4 to PS5 upgrades be this simple?
[source ea.com]